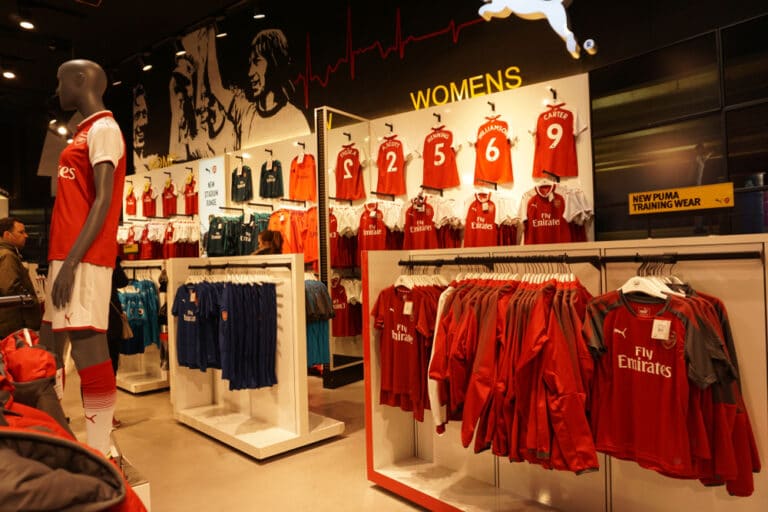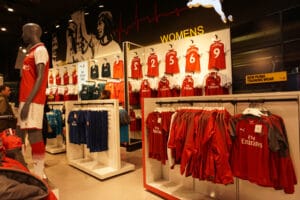 This years' FA Cup winners, one of the biggest football clubs in the country, with an extensive, long-term history.
Arsenal FC, have just broken the news that they plan to make 55 staff members redundant, due to the impact Coronavirus has had on them as a business.
There are many issues with the statement they've made and what they're planning to do, which has even made some Arsenal ex-player legends come forward and question what's going on.
A Premier League football team of the calibre of Arsenal Football Club should not be making staff redundancies unless it is the only way out of a financial failing for them, but that definitely doesn't seem to be the case here.
Arsenal to concede members of staff
The full statement from the Arsenal board goes into further detail about the staff members who are set to lose their jobs, in what seems to be unfair circumstances.
They have stated, "Over recent years we have consistently invested in additional staff to take the club forward but with the expected reduction of income in mind, it is now clear that we must reduce our costs further to ensure we are operating in a sustainable and responsible way, and to enable us to continue to invest in the team.
Our aim has been to protect the jobs and base salaries of our people for as long as we possibly can. Unfortunately, we have now come to the point where we are proposing 55 redundancies."
They continue, "We do not make these proposals lightly and have looked at every aspect of the club and our expenditure before reaching this point. We are now entering the required 30-day consultation period on these proposals".
Arsenal do also go on to detail exactly what sources on their income have taken a hit and how it has effected their financial prowess, "Our main sources of income have all reduced significantly. Revenue from broadcasters, match day and commercial activities have all been hit severely and these impacts will continue into at least the forthcoming 2020/21 season."
"The pandemic represents one of the most challenging periods in our 134-year history and we have responded promptly by implementing wide-ranging measures to reduce our costs. Our players, senior football staff and executive team have volunteered pay cuts, we have stopped pretty much all of our capital spending, and our discretionary operating expenditure has been strictly controlled.
We have also received significant financial support from our owners, Koneke, Sports & Entertainment in terms of refinancing our stadium debt".
The financial hit
Another example of why this is so wrong is that Arsenal's star striker, Pierre-Emerick Aubameyang, who recently scored twice in the clubs' FA Cup final victory, is being offered a new contract that is rumoured to earn him around £250,000 a week. This is clearly a case of Arsenal prioritising their actual players above other staff members, which nobody would argue to not be logical, but the financial hit because of Coronavirus clearly doesn't exist if they can propose these sorts of deals.
While there is no doubt that a club the size of Arsenal has been affected financially by the disastrous effects of Covid-19 this year, there is simply no way they can no longer afford to pay their staff, while they have players on massive contracts that haven't been forced t take any kind of pay cut whatsoever.
The reaction
It's fair to say the reaction to this news hasn't been received too well from fans and ex-players alike. For a club such as Arsenal, which is a mammoth-sized brand at this point, to make the decision to axe 55 members of staff due to a lack of funding isn't understandable at all, when in a weeks' time they'll likely be signing new players for tens of millions of pounds.
Arsenal legend Ian Wright has made his views clear through the use of social media, where he can often be found interacting with fans and followers of the club. He made his views clear in the tweet below
He is clearly pointing out that the decision made by the club today is one that is both wrong and nonsensical. The 55 people that will lose their jobs sound like they're to be the first of many more when reading through Arsenal's statement, though it makes no sense to do so when they're spending masses of money on the transfer fees of new players' year after year.


It shouldn't take an ex-legend to point out a club's wrongdoings, but it can certainly help with the correction of the cause. Earlier this year we witnessed the likes of Liverpool FC and Tottenham Hotspur place staff into furlough schemes when they absolutely didn't need the financial help of doing so. This was met by such a negative reaction from fans, pundits and members of the general public that the decisions were eventually overturned before they could lead to further damage.
Alternatives to making staff redundant
With the coronavirus (COVID-19) pandemic causing significant issues for companies across the UK, many employers may be faced with the genuine prospect of making staff redundant.
However, there are some alternatives to redundancies that should first be considered, including:
reduced working hours

adjusting budgets

freezing pay

flexible working

voluntary redundancy
Best of luck to those that have lost jobs
We'd like to wish the 55 individuals at Arsenal Football Club whom are about to become unemployed, the best of luck for the future.
If you're reading this article from the perspective of someone that has faced recent redundancy, or are suddenly filled with job insecurities, it's important to assess your options. This doesn't have to be the end of your career, but merely a turning point. You have different paths you can now travel down, so collect your redundancy pay and contact the relevant recruitment agencies to revitalize your career.
Online recruitment is often a successful way to restart your career. Websites such as Indeed allow you enter keywords of positions you'd like to find and apply for. Having a LinkedIn profile is another way of communicating with potential employers. By using the 'job search' feature on LinkedIn, you can view positions relevant to your line of work, allowing you to see what kind of employers there are near your location.
Social media can be a beneficial method of job searching. More job boards than ever before now choose to have a social media presence, allowing them to get a closer insight into the type of candidate they're looking for. This is why it's important to keep up appearances across your social accounts. Don't post stuff on their that you wouldn't want future employers to see.
Keep your CV up to date. The experience gained from the position you're facing redundancy from will likely be key in gaining your next role at a new company. Glassdoor advises, "Remember that a quality CV is succinct and tailored to the precise role. Be selective about which details to include and then ask yourself: Does this highlight the best of my work and what I have to offer?"
Target recruitment consultancies when looking to reboot your work life. These consultants will be tasked with headhunting new workers and finding ideal candidates to fill a void in workplaces. Try to obtain the email addresses of people such as these and give yourself the insider knowledge that may lend you the upper-hand when talking to recruiters.
To summarise
55 redundancies to be made by Arsenal Football Club

Coronavirus to blame for the financial hit suffered by the club

Huge bumper contracts offered to players while members of staff are set to be made redundant

Ex-players and fans alike negative reaction could potentially help to correct the issue

The job searches to restart for those that lose their position 
Update: Arsenal's morals come into question
The morality of Arsenal Football Club has come under fire recently after making 55 separate redundancies to members of staff, and then proceeding to make new big money signings ahead of the new footballing season.
Arsenal have announced the signing of ex-Chelsea FC player Willian and it has been reported that the Brazilian winger will earn around £220,000 a week. Not only are these wages massive, even for a Premier League player, they're also coming off the back of Arsenal making the previously mentioned redundancies. This is a clear indication that the people who were axed from their jobs at the club didn't need to be.
It should be known that Arsenal have also completed another summer signing, before the season has begun. They have managed to acquire the signature of central defender Gabriel from French Side Lille. The supposed sum of money which clutched the player from the French team was £27 million, and then on top of this lump sum will be the players' wages, which are yet to be revealed. Though, you can expect them to be large and on a similar scale to other top players within the squad.
It seems as if the redundancies didn't need to be made and that Arsenal are yet another top English side that can hang their head in shame this year
Update: Gunnersaurus let go
 Arsenal Football Club's mascot of the past 27 years Gunnersaurus, has apparently been let go of and dismissed by the club. The mascot has reportedly been deemed 'not necessary' as fans aren't allowed to watch games at the moment inside the Emirates Stadium in London.
Though, what does this really say about the club as a whole? Arsenal are yet again complaining about the financial aspects of Covid-19 and pinching pennies over something as trivial as the club mascot, but on the very same day make a payment of £45million to Spanish side Atletico Madrid for the services of Midfielder Thomas Partey.
Fans and ex-professionals of the club alike, have taken to social media to proclaim their confusion and frustration at this seemingly strange decision.
Here's a few examples of the reactions this news has managed to stir up:
First up, here's Ian Wright, ex-striker of the club, who is clearly disappointed once again with the decisions made by Arsenal: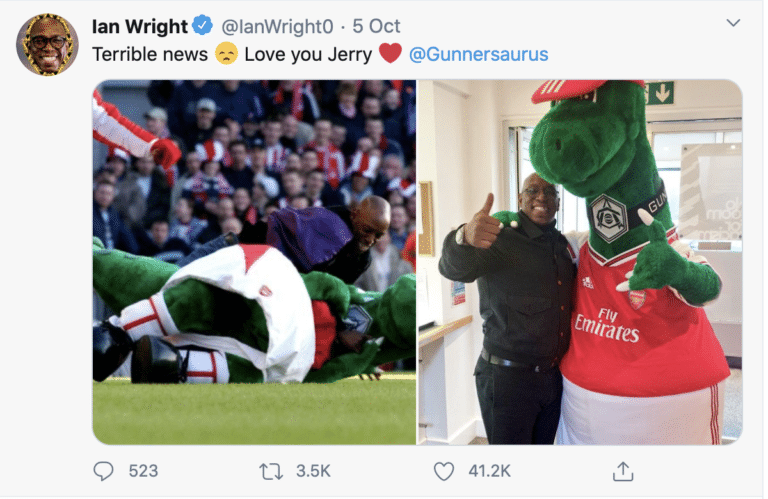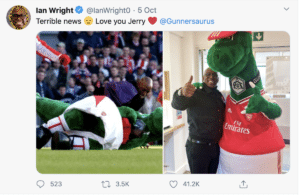 Secondly, we have television host Piers Morgan, lifelong fan of Arsenal FC, with this statement of frustration. He calls upon the manager and captain of the current squad to intervene: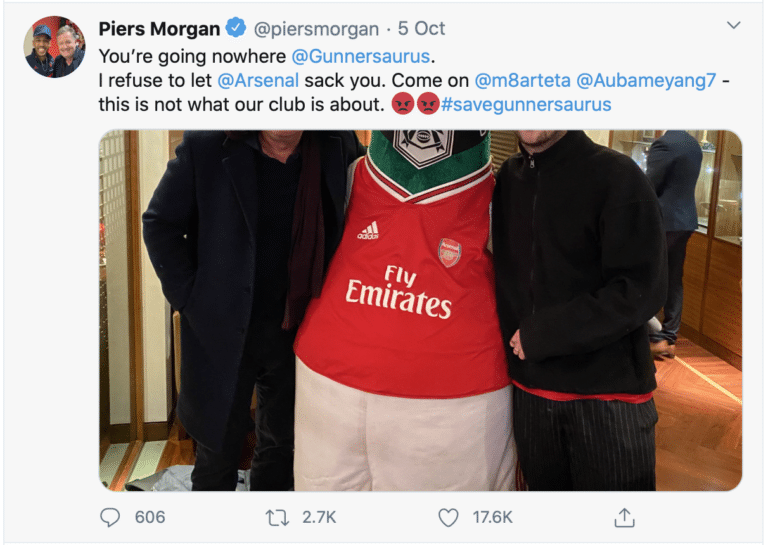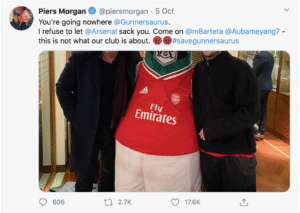 Even players from other clubs have taken to social media to comment on how ridiculous this decision is, for example: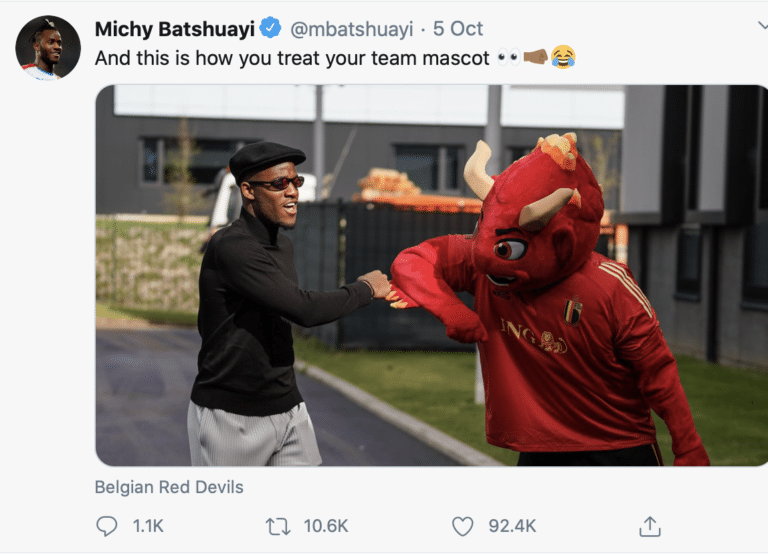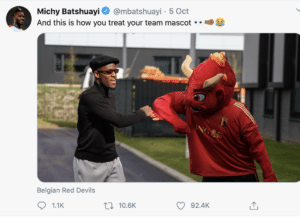 Paul Merson also made this comment during his appearance on Sky Sport's deadline day show yesterday, "There will be 30 and 40-year-old fans who have grown up with that dinosaur. It's disappointing, I think it's poor by Arsenal, I really do". 
Go Fund Gunnersaurus
The one shred of positive news for Arsenal fans (other than their stellar activity in this year's transfer window) is that a GoFundMe page has been set up in support of bringing the mascot back to the club in the near future. Though, this is obviously unlikely to work, it does show a level of togetherness that remains within the fanbase during these difficult times. The GoFundMe page is really aimed at the man who played the club mascot for all those years. Jerry Quy has been the man in the costume since 1993, three years prior to the arrival of legendary manager Arsene Wenger.
The mission statement on the GoFundMe page reads: "Gunnersaurus has been the Arsenal club mascot for 27 years. He's a club icon and we cannot let him become extinct.
"Played by lifelong fan Jerry Quy, it would be a terrible shame to lose him. The mascot league is the only one we've consistently been on top of, let's keep our all time top scorer on top.
"Let's raise some money to keep Gunnersaurus going. Please give generously!"
Will the club do the right thing and reverse this silly decision? Or is rather another contradictory statement of intent, made by the club from a financial point of view; from a point of view that in itself makes no sense when they're still shelling out millions for players every passing summer
Gunnersaurus to be saved? 
Arsenal footballer Mesut Ozil, has made a statement which claims he will completely cover the cost of the club mascot's wages in order to keep him in a job. This is a fantastic gesture from the midfielder and one that proves doubters of his professionalism wrong. Ozil made his intentions known to his millions of followers on the social media platform Twitter, in the form of a post.
His full statement reads, "I was so sad that Jerry Quy aka our famous and loyal mascot Gunnersaurus and integral part of our club was being made redundant after 27 years. As such, I'm offering to reimburse Arsenal with the full salary of our big green guy as long as I will be an Arsenal player".
This is obviously a fantastic gesture and we can only assume that the football club will accept the offer, even though they shouldn't have to with the previously mentioned amount of cash they're still consistently spending on new players.
This will have also undoubtedly brought Mesut Ozil some much-needed respect from the Arsenal fanbase, as he's come under fire in recent years due to his sub-par performances on the pitch.