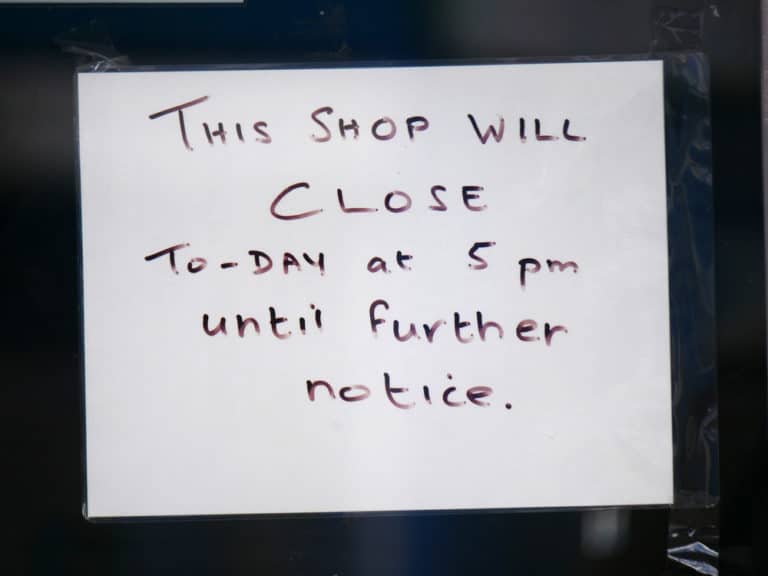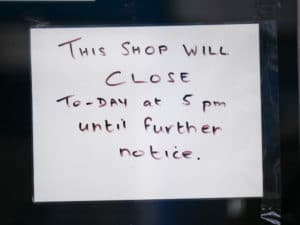 If you're looking to close your limited company, or have been forced into the situation by the recent events caused by Covid-19, it's important you know the widespread of options available to you.
There are many different paths you can choose to go down when closing a limited business that you own, so we want to give you a few examples.
In this article we will give you information on the three of the most common ways a limited company comes to it's end. The short list is as follows:
Liquidation
It is true that the liquidation process comes at a price, which can be a real hassle for business owners, as in almost every case, the reason a business enters liquidation is due to the financial issues they're facing at that time.
As your business venture enters a phase where it becomes financially unstable and riddled with cash flow issues, it can be inevitable that you'll have to file for liquidation. The first thing you should do is contact us here at Business Insolvency Helpline, as we can aid you in making the key decisions on dilemmas.
For example, whether a formal liquidation procedure is the best option, or whether other routes, such as a voluntary arrangement, refinancing or a dissolution, would be more suitable to your individual situation.
A limited company is a separate legal entity and therefore it is normally responsible for all costs of its own liquidation. If a company is insolvent this means its liabilities outweighs its assets, in reality this means there is vary limited liquidity within that entity.
If the costs cannot be found within the company such as assets, cash at bank or book debt than the responsibility for paying the liquidator fees lands with the company directors and the following may help to raise funds.
Here at Business Insolvency Helpline, we can offer you help. By getting into contact with an expert member of our liquidation team today, you can receive a free overlook of all available options to you. You likely wouldn't be viewing this article if you didn't feel as if your company was destined for liquidation, so why not see how we could help you through that process?
Contact us and receive free guidance from an expert before making any final decisions about the fate of your business venture. We are available 24 hours a day, 7 days a week. We offer professional and impartial turnaround and recovery advice to get your business back on track no matter what the issues are that you are facing. 
Bankruptcy
Filing for bankruptcy may be something that unfortunately becomes much more common in the UK over the coming months and it's all because of the knock-on effects of COVID-19. The pandemic is having such negative effects all over the globe and the risk of losing your job, not being able to repay a previously taken out loan, and even being placed on a furlough scheme are all worries many of us didn't have to face prior to this.
The Independent has reported that the amount of people Coronavirus effects in a negative way financially will be much greater than the amount of people it kills. They report, "Coronavirus's economic danger is exponentially greater than its health risks to the public. If the virus does directly affect your life, it is most likely to be through stopping you going to work, forcing your employer to make you redundant, or bankrupting your business".
The longer the UK lockdown continues on, the more our economy will suffer, though if we were to bring the lockdown to a halt now, we would witness a monumental increase in the number of lives being lost on a daily basis. This is why it's such a great struggle for the government to get it right; it is almost an impossible task.
Bankruptcy is a common reason behind business closures though, so if you find yourself in this position, get into contact with a member of our expert team today, and allow them to guide you through the next phase of this process.
Individual Involuntary Arrangement
An individual voluntary arrangement (IVA) is a legally binding contract between an individual (the debtor) and his or her unsecured creditors, under which the debts owed by the debtor to his or her creditors will be compromised by time and or amount, depending on the debtor's financial circumstances.
Typically, an IVA will enable the debtor to repay a proportion of his or her debts over a period of time; usually no longer than five years. The proportion to be repaid (the 'pence in the pound') will be determined by what the debtor can afford and what the creditors are prepared to accept.  An IVA will not let you close down a limited company, it will help to pay off any personal guarantees that my be active if you have given them for your business.
For the debtor, the principle benefit of an IVA is that it avoids the restrictions of bankruptcy, under which a debtor cannot:
borrow more than £500 without telling the lender that he or she is bankrupt

act as a director of a limited company or be involved in the promotion or management of a limited company

carry on business under a different trading style

be a trustee of a charity

work as an insolvency practitioner

sit or vote in the House of Commons or the House of Lords

be a school governor

be a solicitor or accountant
If a bankruptcy petition has been issued, this can be superseded by an application for an Interim Order, allowing the debtor time to propose an IVA.
Whilst the fact of an IVA is a matter of public record – it is entered onto the government's Individual Insolvency Register – the contents of the proposal remain confidential between the debtor and his or her creditors.
Know your options and make your choice
When closing your limited business, it is crucial that you make the right choices to leave you in the best possible financial situation. Do it in a way where you have control over the proceedings and the way that allows you to say goodbye to your business how you'd like to.
Coronavirus has lead to a much higher rate of limited company closures this year, so do not be put off of business for life if it has been a factor in your venture's underperformance. You are not alone.