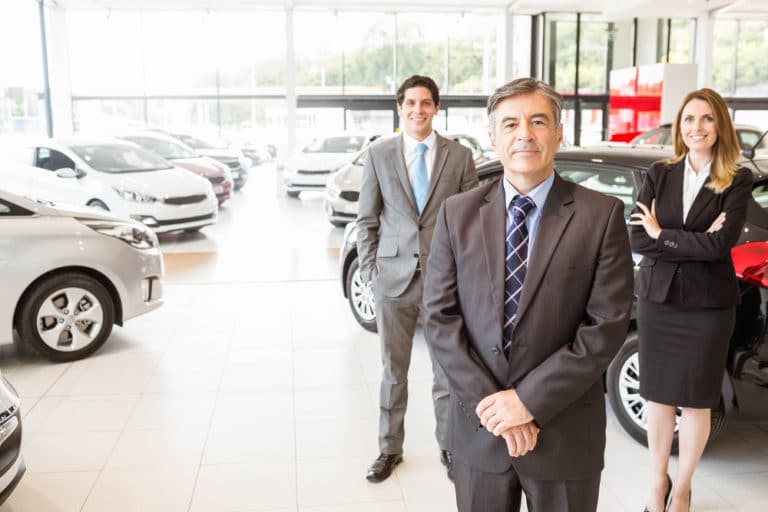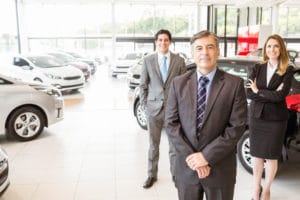 New car registrations were down by a staggering 97% during April this year, which is quite simply shockingly bad news for the motor vehicle industry.
This could lead to thousands of people losing their jobs, as well as companies going out of business or owners being forced into filing for bankruptcy.
The situation is dire within the car world right now in the UK, and it won't pick up again until lockdown is over, as to put it quite simply, nobody wants to buy a car when they can't use it, and we'll have no new driver until people can once again have lessons and take tests.
With motor dealerships shut down and showrooms shuttered for the whole of April, new car registrations came in at only 4,321. That is a fall of more than 97 per cent from the 161,000 sold in April 2019.
Issues for car selling businesses
We will likely continue to see car sales drop as the demand for new cars maintains its current low level. People have no use for a new car right now, and won't until social distancing rules are at least relaxed by a small degree. Car makers and retailers will have no choice but to accept this unfortunate trend until we witness a change to those particular laws.
This fall from grace in terms of both sales and registrations of cars within the UK has been a trend over the last few months, ever since our lockdown period began. Though, this makes perfect sense because, as like many other products from a wide variety of industries, the need for new vehicles is going to go down in the middle of a global pandemic such as the coronavirus outbreak.
New vehicle sales plunging due to lockdown
The Guardian reports, "The UK car market ground to a halt in April, with new vehicle sales plunging by 97% to the lowest level since the end of the second world war because of the coronavirus lockdown.
Just 4,321 new cars were registered last month, after car showrooms were banned from staying open as part of attempts to limit the spread of Covid-19.
It compared with 161,064 sales in the same month last year, and was the weakest since 1946 when the UK was emerging from war and resources were still rationed, highlighting the historic extent to which pandemic restrictions have hit the economy.
The lockdown began on 23 March. Sales for that month fell by 44% compared with 2019, the biggest fall since the financial crisis, before the almost total freeze in April. The majority of the cars sold in April were to fleet buyers who already had them on order, according to the Society of Motor Manufacturers and Traders (SMMT) which produced the figures".
Everyone's fighting to be considered important enough to be among the first wave of businesses that are allowed to be reopened, but it isn't an easy fight by any means. All different types of industry across the board in the UK are making the government consider what bringing them back into the world of active businesses would achieve.
Sky News reported, "The Society of Motor Manufacturers and Traders (SMMT) said just 4,321 new vehicles were registered – a record low for the market.
That compares to 161,000 in the same month last year – a number already depressed as consumer confidence was knocked by Brexit deadlines and what the car industry described as "confusion" over the future of diesel-powered cars".
The world of car sales is no different in this aspect and with the UK automotive industry supporting 820,000 jobs and being worth £101 billion to the economy, industry bosses urged Government to make dealerships among the first businesses to be allowed to open.
The graphic below, which was sourced by Auto Express, shows just how far sales have fallen: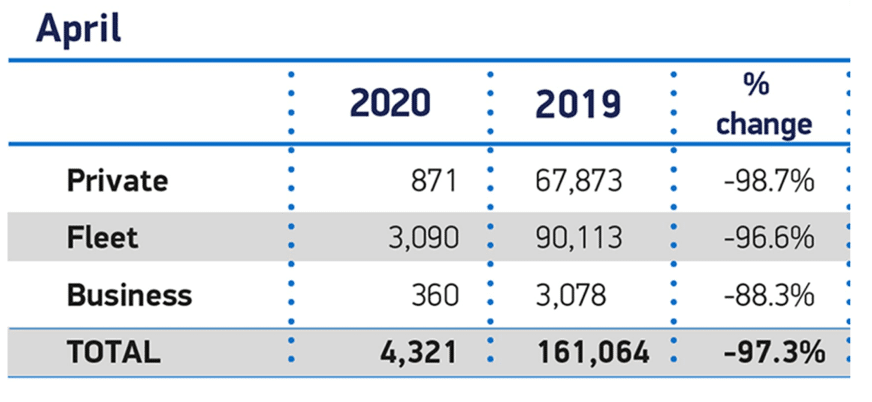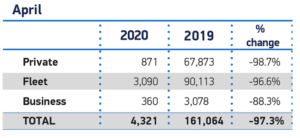 The electrical storm
 An unpredicted change and turn of events has lead to the electrical car market becoming the biggest sellers in the UK, at least for the time being. The Tesla Model 3 and the Jaguar I-Pace are now the two best sellers in Britain, both of which are electrical cars and rather upmarket within the world of battery-powered electric vehicles. Electric cars may use this as a marketing tool to further their sales into the future, and companies will be hopeful that they can maintain a strong amount sales after this virus finally passes us by.
This could be potentially good news for those that are fans of helping the environment, be it is somewhat surprising; electric cars are very expensive still and those two models in particular aren't too easily affordable for most people. This could be a trend that continues on into the future as it ha been revealed that living the way we currently do, has been doing wonders for the planet, and we may well come out of the other side of this pandemic with a more spirited approach to exactly how our actions effect the environment.
From this point forward 
The only reasonable time to think about car sales gaining a boost will be after lockdown has lifted, or at least been relaxed in a way that allows people to once again make worthwhile travel. Whilst ever people cannot journey around in cars, they simply will not want to buy them, this is the unfortunate fact that's facing the car sales industry down at this current moment in time. This coming Sunday Prime Minister Boris Johnson is set to make an announcement on what will be happening over the next few weeks of lockdown, it is unknown up to yet just how this will impact businesses, but many are expected to be able to return to work in some sort of trial period, to showcase exactly what effect it has on people.
Businesses of all kinds will be hopeful that the government may just reveal some positive news for them during the dire time. It is difficult to predict exactly where we'll go from here, but the only way is up for companies all around the United Kingdom.