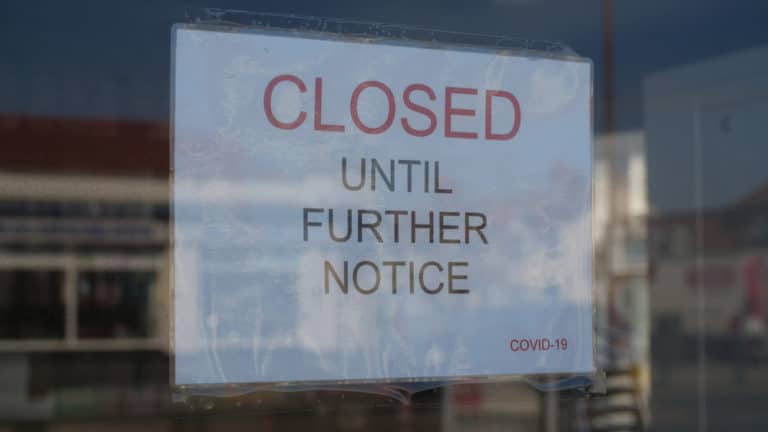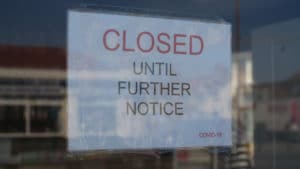 More than 30,000 pubs, bars and restaurants are now expected to stay permanently closed due to the ongoing, disastrous effects of the Coronavirus pandemic.
The UK lockdown, which forced businesses of all kinds, shapes and sizes to at least temporarily close, in an effort to save lives, has been disastrous for many companies.
The closures have left many business ventures with no incoming funds of any kind, and therefore, no lifeline to help them to weather the storm, but particularly those that were already struggling beforehand.
If you owned a business that was only just making enough to survive before being temporarily closed down, you didn't really stand a chance of surviving afterwards.
Also, for those businesses within the leisure and hospitality industry that were starting to do well and begging to advance their business further, this whole situation has made them once again take a backward step unfortunately.
The number of pub, bar and hospitality insolvencies has soared by 13% to 530 in the past year (12 months ending September 30) up from 470 the previous year according to ONS figures.
Hospitality permanent closure
The Guardian report, "The enforced period of closure could be the final straw from some business operators who were having a tough time before the crisis hit. About 2,800 bars and restaurants closed down in the 12 months before the lockdown began, this is up from 1,410 restaurants that entered insolvency in 2018/19.
"The 2.4% fall in the number of licensed premises in the year to the end of March was recorded by the CGA AlixPartners market recovery monitor, which now expects the decline to worsen once the hospitality sector begins to reopen at the start of July.
"Hospitality business owners expect the industry to reopen in stages but a third told CGA's latest business confidence survey they already anticipated the need to permanently close sites".
All areas of the hospitality sector are currently being affected; how will hotels fill their rooms with different people each day in the near future? Scenarios such as that seem like an unfathomable task right now. We will simply have to collectively hope that a common solution can be discovered that helps in many different areas at some point soon.
With the government claiming that their roadmap back to normality is hoping that some hospitality businesses will be able to once again reopen in, or just after July, there could be some added hope there. For now, this new normal will continue to be a major struggle for many in the hospitality industry.
Though, even if hospitality businesses can begin to reopen within a few months' time, for many that will be far too late. The fight to survive is coming at the ultimate price for many and that is why people are demanding answers from the government, in terms of how long it'll take for their individual business' to be able to once again open their doors to the public, and start getting some money in the tills. Though, understandably, these questions of timeframes are more or less impossible to answer right now.
Ideas for survival
Some landlords across the UK have decided to take matters into their own hands and have begun to offer services that have required some thinking outside of the box. Takeaway pints are one of those said ideas, and it seems to be catching the attention of some of the previously regular punters.
This idea seemed to start in Hackney, but has since swept across the nation, with more and more pub owners catching the takeaway train. It is certainly a way to make money throughout this business-ending period of time, and it also allows members of the public to feel a little more normal than they have done before. People have also been allowed to play certain sports that can easily adhere to social distancing, such as tennis and golf. All of these things will at the very least up the mood of the general public to some extent and allow them some extra activities to be filling their time with.
For businesses in general, within a few months' time with all going to plan, and the R level staying down, you'll begin to notice many more things opening up. So, the time for reinvigorating your business may well and truly be on the way.
Before the pandemic began
Before the terrible effects of Coronavirus there was a recent, positive change for pubs and bars across the UK which was presenting the industry with a better outlook for newcomers to this kind of business. Bars had stopped declining over the past year or so and actually made a U-turn on their previous dire situation. This was then being viewed as a major plus sign for existing companies, but also a fantastic spring board for new businesses that were looking to make a first break in the eating and drinking industry.
The following statistics were collected by the BBC, which show the growth that pubs were beginning to make in the market before the awful effects of Coronavirus took hold, as opposed to a previous constant downfall year upon year: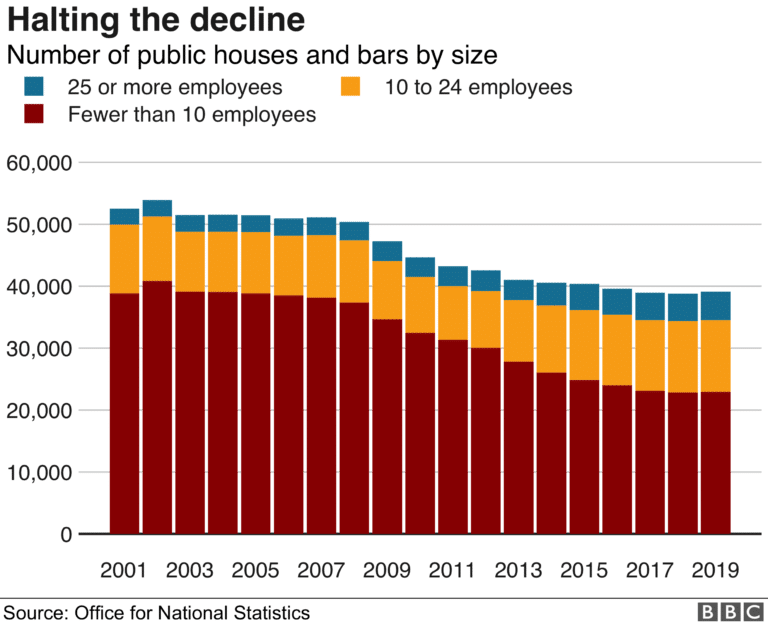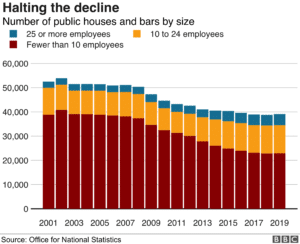 Changes for your business in the future
If you're the owner of a pub, what should have been good news for you, has been reversed due to this terrible disease, currently sweeping the globe.
Though the stats showed more people were visiting drinking establishments than before and therefore new locations and businesses were beginning to open and capitalising on this shift in momentum, Covid-19 has brought all of that to a halt.
Try not to dwell on the changes however, more bars will still likely start to open, especially if many close down due to their business being interrupted. It'll leave a potential gap in the market and you may have a sudden smaller base of competition to contend with, so you too will have to capitalise on this scenario when you once again can do so.
This means that after the lockdown comes to an end, it'll be prime time to make the changes you need to make in order to advance your business venture to new heights. Begin to offer a wider range of beverages, add a food menu to your pub, or expand on an outdoor space to make the most out of your summer market. Of course, all of these things require extra funding, but that's where you begin to look for alternative funding options, which allow you to use your money however you please in order to improve your business venture and ultimately gain more customers
COVID devastation continues to affect breweries
It has been revealed that the total amount of independent UK breweries has dropped to 1,816 from 1,823 last year. This is the first time a decline has been recorded in numbers since the major influx of UK breweries began back in 2008. While 163 breweries have opened this year and are newly listed, many more have closed their doors, which has lead to the dip in total figures.
The harsh reality is that the Coronavirus pandemic has taken its toll on the breweries in this country. With the total number of them dropping for the first time since 2008, it does seem to be foreshadowing worrying times ahead for this area of industry within the UK. With a lack of business funding being made available to breweries in the forms of government grants, etc. it is difficult to see how they will continue to survive with little to no help seemingly coming their way.
The issues run deeper than you may think 
One major problem our breweries have faced this year has been the sheer lack of financial aid on offer to them during this highly difficult period of time. Breweries have not had access to government grants or business rates holiday periods this year. This has left them almost completely out of government support packages. Further, to make things even harder on them, it seems that a tax hike is around the corner for hundreds of small breweries, which is liable to push many more struggling businesses to a point of no return.
The Guardian have reported that, "2020 has been one of the toughest on record for independent breweries, who have seen sales slump by an average of 82% during lockdown, leading to two breweries a week closing their doors for good this summer".
If we don't want to lose the breweries we've built up in this country over the last decade, we need to be able to support them financially with government grants for example, which they would benefit from not having to repay. Many businesses in the UK are struggling more by the day as uncertainty around further lockdown restrictions is looming large.
We've recently witnessed both France and Germany announcing further national lockdowns and many are beginning to expect the UK to follow in those same footsteps. This would yet again serve up added pressure onto business of all shapes and sizes across the country, though it would be our independents that would feel the brunt of it once more
Can the hospitality decline be halted?
As with traditional retail, the British pub stands at a cross-roads, the victim of shifting market forces and consumer behaviour, but without an obvious path out of trouble.
"There's no doubt the golden age of the pub has ended,' comments James Watson, 'but that doesn't mean it needs to become extinct. My advice to all landlords is to figure out what your particular community needs and try to incorporate that into your business model. In some rural places, pubs now include the post office, or a village shop, or even a church. People get together for worship and then have a pint. If that kind of system can work, then perhaps more pubs can find creative ways to evolve. '
In a study commissioned by Camra, called Friends on Tap, behavioural psychologist Robin Dunbar concluded that the very health and happiness of the nation may be closely tied with our pubs. "The single most important factor determining health, wellbeing and survival is the size and quality of our personal social networks,' the study reports.
"People who said they have a 'local' or those who patronise small community pubs have more close friends on whom they can depend for support, are more satisfied with their lives and feel more embedded in their local communities than those who said they do not have a local pub.
If we can persuade people to get off their smartphones and get down to the pub to talk to each other, it is likely to have dramatic effects on health and wellbeing, as well as community cohesion"