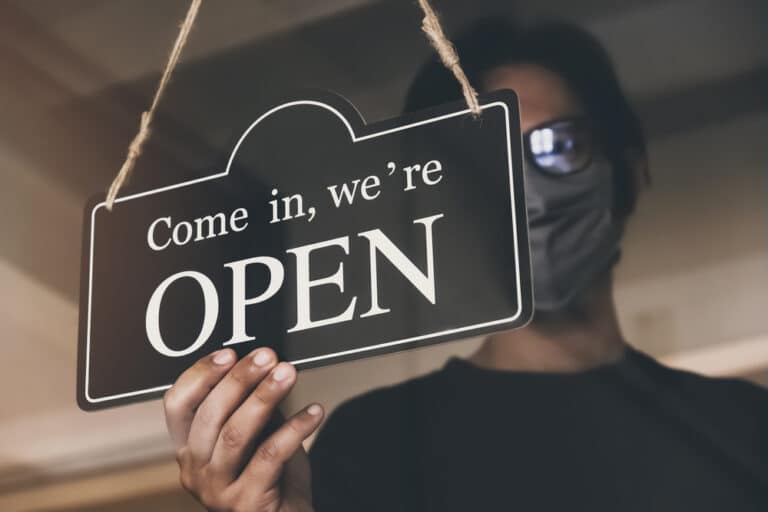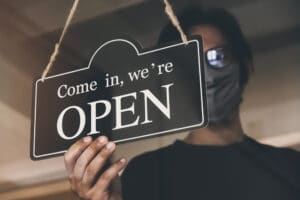 It is almost March 2021 and as of yet there have been no signs of non-essential businesses opening any time soon.
However, today is the 22nd February and Boris Johnson and his government are expected to reveal details of a roadmap that will see the country attempt to return to some kind of normality.
The question on struggling business owner's minds is now likely, "will reopening my business be enough to save it"? The answer is quite dependant on what type of business you run, as not all sectors will be opening up at the same time.
You may be thinking that we have been here before, where we seem to get away from lockdown for a while, only to be dropped back into it after a month of two. However, this time around things are a little bit different, thanks to the UKs successful approach to vaccinations and the brilliant work that has been done to keep vaccines coming in on time.
It seems that there is finally going to be some light at the end of this extremely dark tunnel, which is something we'll all surely be thankful for.
The cautious approach 
The apparent plan to lift the UK lockdown is being described as a cautious approach, which in many ways it has to be. After all, we have learned that the plans can quickly change if things take a turn for the worst in regard to COVID-19, but the country has to try to get back to functioning properly at some point in the near future.
The suggested roadmap seemingly consists of four separate stages, with the first of those being split into two different parts. These two parts are as follows:
8 March – All schools will open with outdoor after-school sports and activities allowed. Recreation in a public space – such as a park – will be allowed between two people, meaning they would be allowed to sit down for a coffee, drink or picnic.
29 March – Outdoor gatherings of either six people or two households will be allowed. It is understood this will include gatherings in private gardens. Outdoor sports facilities such as tennis or basketball courts will reopen and organised adult and children's sport, such as grassroots football, will also return.
Back in business
This is quite obviously great news for businesses all over the country and ultimately indicates that many of them will be swinging their doors open again at some point soon. Sports facilities will start getting paying customers once again and small businesses such as local cafes will likely gain excelled custom when people from separate households are allowed to meet up for a coffee once again.
Of course, for now all of these things will have to take place outdoors, but by the end of March we should start experiencing some better weather, and there is no doubt that people are more than ready to meet up with friends and family for the first time in a long time.
If you're a busines owner and your venture looks set to be given the greenlight to reopen over the next few months, you need to be ready to take full advantage of the incoming situation.
Business Insolvency is always a worry
Of course, with the break in business that has been constantly shifting from on and off over the past year or so, many firms have shut down on a permanent basis. As well as this, a vast number of companies have faced insolvency procedures; it has been pretty much unavoidable for some time now, due to the Coronavirus pandemic. Despite people's best efforts insolvency cases have been on the rise over the last year on a major scale.
Below you'll find a list of things you need to consider in order to ensure your business venture functions in the proper way when it is allowed to reopen, as well as making its best effort to avoid all insolvency proceedings for as long as possible.
Things you can do to avoid insolvency
Get some stock back in – Making sure you're stocked up will be essential if you're running a retail business of any kind. Though, being away from the workplace for so long may have had you worry about the big problems and forgetting some of the smaller, simpler aspects of your business. Companies will need more notice to deliver than they normally would, due to everything that's happened over the past few months, so be sure to order your new lines of stock as quickly as possible. 
Remote workers – Do you really need them back in the office just yet? The government are still advising people that are able to work from home to continue to do so, and even though they seem to be operating on a do as we say, not as we do (Dominic Cummings) basis, this advice should still be followed.
Small business owners may be eager to get their staff members back to work as soon as humanly possible, but it isn't quite time for that yet if you don't really need them. If your business venture can remain fully functional with a number of remote workers, then continue to follow that formula, it'll keep everyone safe, including yourself. This may even start to become the norm in the future.
Everyone needs to be prepared – If you are running a business where it is essential that you have your team of staff members back, make sure they know exactly what you're putting into place for them to stay safe. This will comfort them and sway them away from the worries that going back to work blindly wouldn't have done. If they know how you're going to make your business safe, they'll trust you that it is okay for them to return to work.
This will also aid them in understanding how they'll need to begin to act differently while at their place of work. Not only will this help to look out for their health and wellbeing, but also that of the customers' who you're relying on to get your business up and running again.
Safety first– If you're hoping to attract people into your business and start making profit once again, nobody would blame you for being eager to get restarted. You do, however, need to be sure that you're making the correct changes to your business in order to ensure the safety of all employees and customers.
The public will not start to visit your business venture if they feel unsafe, nor will your staff want to travel to and from work every day if they're fearing for their health. As a returning business, make sure you're coming back in the right way and follow the government guidelines on how to reopen your non-essential venture.
If you want to avoid a possible business insolvency, you need to do everything in your power to get people coming through the doors of your premises and spending their cash on the products and services you have to offer.