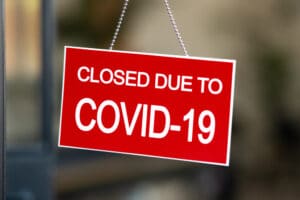 There is a lot of uncertainty once again among the small business owners of Great Britain.
One thing is for certain however, businesses will indeed be facing an extremely trying and testing time during the opening stages of 2021 and new business opportunities will likely be limited during the first half of the year.
This latest national lockdown is set to stay for the foreseeable future, while the government works on a plan to control the new strand of COVID-19 which seemingly originated in the southern areas of England, and is extremely difficult to control due to its nature of easily spreading from one individual to another.
With a third nationwide lockdown now in effect, small businesses will need to get hold of all the possible funding they can, be it in the form of government grants, or small business loans to see them through until the point where they can fully reopen once again.
What financial help is now available to me?
Now we're all once again being told to stay at home and only leave our houses to shop for essential items, many small and independent businesses have been placed on the back foot, wondering how they'll cope. Thankfully, there are methods of financial support available to you if you know where to find them.
Let's face it, most businesses will not be able to remain open, as the vast majority of them do not offer essential services, such as medical appointments, or essential items, such as food and medical supplies.
Make the effort to save your own business venture once again, by applying for the financial funding that is available to you today. GOV has made it clear that there is £4.6 billion in new lockdown grants, which are accessible to businesses, so that they can be saved and the people that work for them can remain employed.
Businesses in the retail, hospitality and leisure sectors are to receive a one-off grant worth up to £9,000, the Chancellor has announced.
GOV announces:
Chancellor announces one-off top up grants for retail, hospitality and leisure businesses worth up to £9,000 per property to help businesses through to the Spring

£594 million discretionary fund also made available to support other impacted businesses

£1.1 billion further discretionary grant funding for Local Authorities, Local Restriction Support Grants worth up to £3,000 a month and extension of furlough scheme
If government grants are not accessible to you, there are other ways of getting money to keep your business supported during a time where it may not be able to function properly.
Unsecured business loans
Have you considered unsecured business loans as a method of getting your venture out of a spot of financial uncertainty? The merchant cash advance offered by PDQ Funding has many positives for businesses to take advantage of. Every business owner runs into the need for working capital from time to time. But where do you go to get it, especially when your bank won't even consider your funding request?  There is a finance solution for businesses that take credit cards & debit card payments. In fact, you could get cash from the sales you haven't even made yet.  
Turn tomorrow's credit & debit card sales into today's cash flow. There is no faster, safer or easier way to get unsecured business funding. The business cash advance is classed as a short term working capital loan. This is because they have a term time of a maximum 18 – 24 months.
This funding option is suited to businesses of all sizes, but may be best suited to a smaller company, due to the fact that they're more likely needing funds to help with their return. Our Business cash advance is an alternative unsecured business loan, which means it's a flexible funding option for you, and has no requirement to secure any personal or business assets against the loan.
The funds you receive can work to cover any and all recovery action you need to take in order to return your company to normality. This kind of business interruption loan scheme is one that will help ventures that have been stuck in a state of inactivity, and have been victim to an unfortunate lack of funds.
Our cash advance calculates how much your business can borrow by factoring in your monthly credit and debit card transactions. The percentage of each future card sale that is repaid to your lender is agreed prior to the conduction of the loan. This means you'll know exactly how much you're going to have to pay back with each sale, plus you'll know that you only start the repayments once you're making sales.
The simplest way of looking at it is that if your retail business has a slow sales week, you'll repay less. Therefore, you won't be under the constant pressure of attempting to reach a certain amount of profit each week. There are no hidden costs or fees, so you won't be on the receiving end of a nasty shock once you take out a cash advance with PDQ Funding.
What will the future hold?
There is certainly light at the end of the tunnel, multiple COVID-19 vaccines are being pumped out to the public and the end of this terrible virus should be here at some point during 2021. For now however, we need to applaud our key workers for the fine job they're all doing and look forward to the time when small businesses can once again comfortably survive and profitably thrive.
Need Insolvency help?
If you feel that your business is suffering from business debts, and the governments help of furlough and business grants are not helping we can help. Our team offer free insolvency advice for small businesses, we offer a free confidential conversation to company directors and business owners, feel free to call the number at the top of this page or complete an online enquiry.