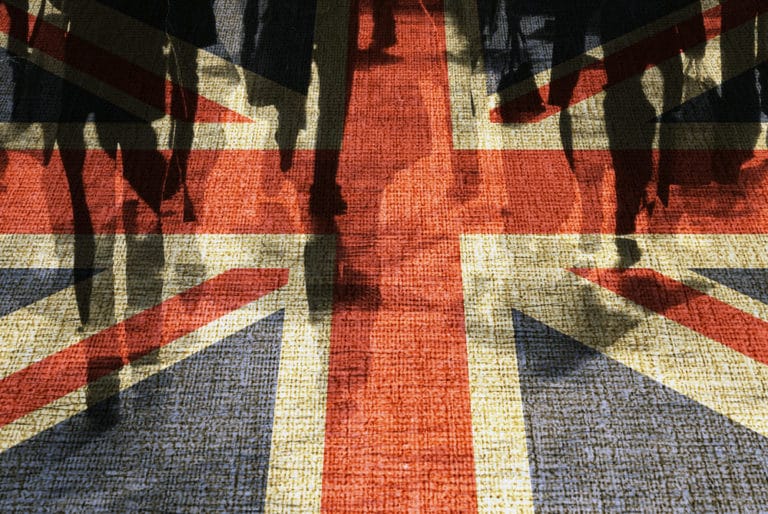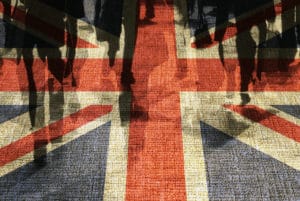 Coronavirus has caused some disastrous effects on the UK economy thus far and though none of us believed it would all be reversed in a quick flash.
Many of us did not predict it would take upwards of four years to start looking like it did mere months ago.
The BBC are reporting on the predication that our economy may not recover until 2024, but we want to delve a little deeper and analyse some of the reasoning behind that statement.
UK economy will not recover until 2024
 The BBC have drawn their information from the EY Item Club, which is a leading UK economic forecasting group. This is undoubtedly a reliable source on information, hence the BBC deciding to report a story based on EY Item Club's findings.
This is what the BBC reported in their recent article from a few days ago, "The UK economy could take until 2024 to return to the size it was before the coronavirus lockdown, according to analysis from the EY Item Club.
The forecasters, who use a similar economic model to the Treasury, suggest unemployment will rise to 9% from 3.9%. They also estimate the economy will shrink by 11.5% this year, worse than the 8% they predicted only a month ago."
"Consumers have been more cautious than expected, they said, while low business investment will dampen growth. As a result, they now expect the post-coronavirus economic recovery to take 18 months longer than previously forecast. However, the Item Club says it is early days and useful data has only recently been made available".
Economy in extreme state
The BBC have also reported that the UK is currently experiencing the worst fall in its economy since Q3 1979. This is displayed on the graph they have developed below, using data collected from the Office for National Statistics: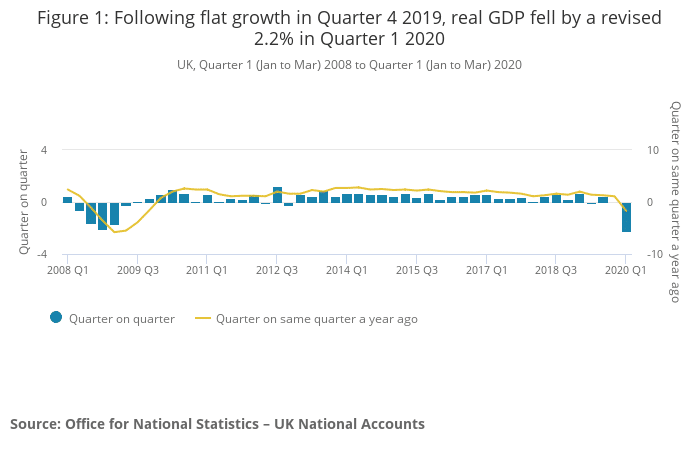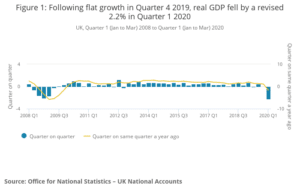 The reasons behind the economy collapse
 It isn't news to any of us that Covid-19 is behind the closure of countless businesses, people not being able to go to work for months, individuals losing out on money they desperately needed to get by and the unfortunate loss of so many lives. The actions taken by the UK Prime Minister Boris Johnson and his government have been questioned by many, though it has to be understood that this is an insanely difficult situation to deal with.
Nobody expected anyone to have the answers to how to combat this terrible disease, though in certain areas could we have done more? Quite possibly, yes. Though, hindsight is a wonderful thing to have, many of the UK's issues with the Coronavirus situation developed because of our lack of understanding. All of the information we now have on the illness wasn't available back in the early parts of 2020, nor do we have all the information we need now.
While Coronavirus has been the biggest threat to our economy for years, could this recent collapse, which isn't expected to be recovered before 2024, have been affected by anything else? Well, looking deeper into the circumstances of the situation we can begin to clock onto things that may have played a part in harming our economy as a whole.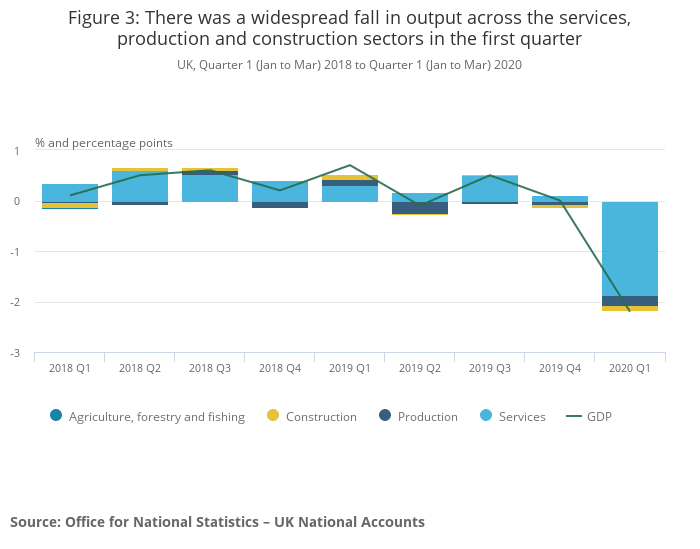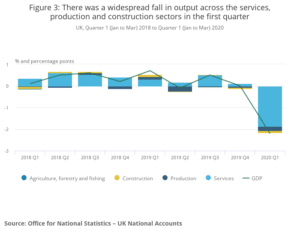 Taking advantage of a crisis
It's worth noting that economic decline can also result in negative effects on people's health, so we must continue to tread a fine line on how we go on as a community. The expert advise the UK has been following to try and put an end to the virus is undoubtedly the right thing to do, but if we fail to look out for our economy we could experience health problems in the future too.
The exploitation of a crisis is something that further harms the economy, yet doesn't stop many people from doing so in the name of their own financial gain. Lenders that increase their interest rates when they know people are under more financial pressure and desperate for cash is a prime example of this. Wrongdoings such as this push the economy even further and stretch it like an elastic band until it reaches breaking point.
Many banks have acted unethically throughout the lockdown period and created negative impacts and effects on the economy. Not only did they go against pleas to lessen the burden on households, they actually did the complete opposite and made things financially tougher on the people of the UK.
Sky have reported, "Britain's banks have defied the Treasury and Bank of England's efforts to get them to lessen the burden on households, raising their interest rates on mortgages after the Bank cut the country's official borrowing rate."
"Data collected by the Bank shows that the interest rates offered by UK banks to those seeking variable rate mortgages have been lifted, rather than falling in lockstep with the Monetary Policy Committee's official rate".
This means that for many customers the cost of borrowing has actually risen instead of falling, despite the Bank and Financial Conduct Authority urging banks to pass on the cuts.
Behaviour such as this can create an unstable existence within a country's economy and accelerate it towards a breaking point phase, after which it will need an extensive period of time to recover. This is similar to what we're experiencing in the UK right now.
Public health comes first
The health of the people of this country should be prioritised over the state of our economy, which it has, hence the temporary closure of businesses that were deemed to be non-essential. Social distancing guidelines will continue to be followed but from the outside looking in, it now most likely seems as if the UK has gone back to normal, following on from the opening of gyms, shops, cinemas, etc.
This may lead to people not treating the virus as seriously as before, which is why it is essential that we made the change to forcing individuals to wear masks while in retail stores. We will likely see more changes forced upon us as we enter what many people are believing to be an upcoming second wave of Covid-19. This is obviously not the outcome we desire, but it may well be the one that is brought to our doorsteps.
The economic impact of taking this safety measures has been disastrous, but also unavoidable. Our country had a choice between saving as many lives as possible or saving the economy and we thankfully made the right decision in choosing lives over money, though we mustn't let that trend come to an end as we try to force our lives back to normal.
How does this compare with the 2008 financial crisis?
The ongoing effects of Coronavirus on the global economy are likely to turn out to be far worse than those of the 2008 financial crisis. No amount of job retention schemes can undo the things that have already happened and if we are indeed hit with a 'second wave' of Coronavirus, our problems would naturally proceed to get even worse.
Back in April the BBC reported the following on the matter, "The BBC's Monica Miller explores how 2020's global coronavirus-induced financial crisis compares with the 2008 recession. The IMF has already said that the world faced the worst economic crisis since the Great Depression of the 1930s and with millions of people out of work since the pandemic started, how will the economy recover? On Wednesday, it added that the global economy would contract by 3% this year as countries around the world shrink at the fastest pace in decades".
How can we speed up the recovery process?
The UK economy is going to take a fair amount of time to recover and it won't just repair itself. Certain things will have to be done by our government to help businesses all around the country resurface, to recover people's jobs or find them new ones and build up our economy to where it was just a few months ago.
It was only a few days ago that Boris Johnson warned the UK business industry to expect a second wave at some point in the near future. People returning to the UK from countries such as Spain are once again having to quarantine themselves for a period of two weeks. The future doesn't look too bright for our great country at the moment. Though, there are certainly things we can all be making an effort to do in order to help re-establish our economy's growth rates.
If we take a look back at the basics of economics and follow some simple rules that could be easily implemented into our society, we'll certainly give ourselves a better chance of quickening things up. By lowering interest rates, increasing real wages and integrating further helpful notions into our society, we'll take the forward steps we need to take.
Economics Help breaks it down into simple terms, with these easy descriptions:
Lower interest rates – reduce the cost of borrowing and increase consumer spending and investment.

Increased real wages – if nominal wages grow above inflation then consumers have more disposable to spend.

Higher global growth – leading to increased export spending.

Devaluation, making exports cheaper and imports more expensive, increasing domestic demand.
Eat out to help out scheme
The government's latest idea to get businesses in the food service industry back on track is their new 'eat out to help out' scheme which they're running across the UK. This allows restaurants to offer a 50% discount, up to the limit of £10 per person, off the entirety of any and all food bills during Monday-Wednesday each week. They can do this because the money they'll be missing out on can be claimed back from the government.
The idea behind it is to obviously get more people going out and helping their local eateries by supporting them with the cash they'll be spending. The large discounts on offer should hopefully get people flocking to their nearest diners and making a real effort for the first time since the UK lockdown began, to show some support to a local business in the form of a physical visitation.
The general reaction
 As you've likely already guessed, this particular scheme has been met with mixed reactions. Many people have been excited to take advantage of the deals on offer and gain a rare, personal helping hand from the government in the form of the discounted food, while others have criticised the idea for numerous reasons.
One of the negatives that has been brought up many a time in regards to the new scheme is the fact that any restaurant can seemingly take advantage of it, whether it's a small business that needs the help, or a massive chain such as McDonalds which would have easily survived without the added financial help.
This should have been a positive way of helping independent restaurant businesses that have somehow found a way to struggle through the lockdown period, but it's being manipulated by those who don't need it, in an act of greed. Though, whichever way you look at it, it is likely a good way to boost the economy and get some money floating around our food service industry once more.
The vast majority of restaurants in England are taking advantage of the scheme and offering food at a largely discounted price to their customers in the hope that they'll once again become busy. You can find the full list of chains and restaurants taking part in the scheme if you're wanting to take advantage of it yourself at some point soon.
The eat out to help out scheme is expected to last until the end of August, so if you're looking to save some money yourself and enjoy a night out while doing so, you may want to act quickly to ensure you avoid disappointment.
In summary 
We need to make some important changes to the way we've been living in the UK to speed up the economies recovery while also continuing to battle against the awful disease that is Covid-19. It's a very difficult situation to come up with a simple solution to, so as long as we're all following the safety guidelines and putting the health of people before wealth and financial gain, the UK economy will have its chance to rise again, after we've kept the people that allow it to thrive safe.