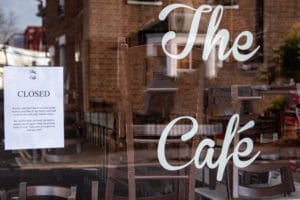 Everyone but essential workers are now expected to work from home for a minimum of the next three weeks, and likely much longer than that in an attempt to well and truly tackle Coronavirus and keep as many people safe as possible.
This ultimately means a huge change in people's lifestyles and a drastic difference in how they approach work. Prime Minister Boris Johnson announced last night that the UK is to take further, more extreme precautions in order to fight off the virus.
He indicated that people will only be able to leave their homes to shop for essential items such as food, to take one form of exercise a day, and for key workers to get to their jobs.
Working from home can be a difficult concept to become familiar with at first if you've never been faced with it before, but during this lockdown period it is simply something we'll all have to get used to. The following are our top tips to guide you from your first day of creating your own personal office, to the moment where working from home becomes second nature to you and you couldn't imagine ever going back to normal.
Working from home was becoming the norm
Even before the spread of coronavirus, working from home was increasing in popularity massively, year after year, More and more companies were choosing this business model as they found it made workers more productive in many cases. The BBC have found that over the past 10 years there has been a gigantic growth in the number of people choosing to work jobs from their own homes.
They say, "More than 1.54 million people work from home for their main job – up from 884,000 ten years ago, according to the ONS Labour Force Survey, the largest study of employment circumstances in the UK".
It can be a positive thing for workers and even give them more motivation to perform to a high standard, as they may enjoy the freedom it provides them with. In surveys conducted by the BBC, it was found that 55% of people working from home found the increased flexibility to be the greatest advantage of the scenario.
The Telegraph even site this new working from home trend as being the new norm, which is something that will definitely prove to be true in the not so distant future. The Telegraph reports, "Employers can see benefits in the move away from a nine-to-five workforce with their jackets hung on the backs of their office chairs – many citing improvements in productivity and staff motivation and retention by offering more flexible ways of working".
Working from home undoubtedly creates a more relaxed environment for workers, allowing them the freedom of getting themselves some food or drink whenever they need it, taking a short break when they feel they need one, and even creating their own working schedules, to an extent. But, can it ultimately make us lonelier?
Our top tips
Follow these tips to make the most out of your time while working at home, maximising productivity and getting yourself into a healthy working routine.
Have a space to work in
 In order to get yourself in the right frame of mind whilst working at home you'll need to create an office-like space for you to complete your daily tasks in. This involves getting into the right daily routine, so you'll have to get up and get changed each morning as you would for your regular job.
Having your own space to work in is crucial for your mental state and can most certainly help to keep you concentrated throughout the working day. Maintaining concentration will likely be one of the biggest challenges you'll have to face while working remotely, so be sure to give yourself the best chance of doing so.
You'll likely have almost everything you need to achieve this already at home, a desk, a computer or laptop, a work phone, etc. Make sure you're covered and contact your management team if not. Create a space that inspires you to perform your best work while we're all locked in during this coronavirus lockdown.
Set your working hours
Be sure to set out your working schedule for yourself at the start of the week and have a rough guide of when you'll take your breaks and allow yourself time to relax. You may want to focus this around when you know yourself that you'll be most productive. If you're usually a more efficient worker later on in the afternoon for example, set your break to come earlier in the day, allowing you to maximise your productivity period.
You will still be expected to do your contracted working hours, so ensure that you're covering that basis. Though, perhaps you can start a little later or earlier depending on your job role. It's a good idea to ask your boss/manager about this before making any final decisions on the matter yourself.
Stay at home, avoid public gatherings, but make sure you're working at the times that are suitable for you and that will provide you with more than long enough periods to get your work finished to the highest standard.
Communication is key
While we don't have access to our usual offices, communicating with co-workers and management teams becomes increasingly difficult. Learn how to communicate effectively and keep a constant stream of daily conversation going with your team leader or boss.
There is no excuse to not utilise technological features such as video calling and file sharing in this day and age, so working from home alone shouldn't be enough to stop anyone having a strong level of communication with staff members. It takes mere moments to reply to an email, so there's hardly an excuse for not doing so when you're already sat in front of your computer all day. Communicate with your fellow workers and they will thrive in terms of hard work and dedication.
This will not only give them updates on your progress, but it'll also allow you to know how things are going for other people, making sure you're staying on top of your workload as well as you can be. Plus, while we're all stuck indoors for the foreseeable future, it's nice to get a form of communication with people whom you don't live with.
This will serve as a mental break from your day to day life in this extended lockdown period of time; it's something which could all benefit from every once in a while.
Remember to eat
This next tip comes from Sky News and it's an important one to say the least. Remember to keep your health and energy up by eating and taking breaks a you normally would while at work. They report, "Remember to eat properly. This takes planning if you're not going to find yourself dipping into the biscuit tin.
Usually we don't do much planning when it comes to our meals at the office. We have canteens or we're near to some shops, but working from home can disrupt the most considerately stocked larder".
Also, consider what it is you're eating, choose a healthy snack over a less beneficial option, for example. Now we're all limited to one form of outdoor exercise a day, make this your break time and take this period to step away from your computer screen and your work, recuperate and come back with a fresh mind-set.
Take breaks you normally would at work
Touching further on this point about tying in your food consumption with your breaks, remember to actually take your breaks each day. If you normally have a free hour around lunch time, then stick to that same routine at home. This will help the whole situation to feel more normal and will also give you the boost you need to power through the rest of your working day.
Taking breaks improves productivity, there's absolutely no doubt about it. You'll feel refreshed and raring to go after having the chance to step away from what you were doing for a brief moment. You can take this time to reflect on how you were doing before and how you can improve upon it in the future.
Here's what Forbes had to report on the matter, "While taking breaks might sound counterintuitive when it comes to boosting productivity, it's one of the best ways to do so. Employees gain focus and energy after stepping away from their desks. A lunch break can help prevent an unproductive, mid-afternoon slump".
They also add that, "Employees need time to recharge. Stress is incredibly common in the North American workplace, and it has detrimental effects on employees. Taking some time away from the desk to go for a quick walk or enjoy a healthy lunch helps release some of this stress and improves mental well-being".
Be sure to take the breaks you need and recharge your batteries when you need them, this will aid in splitting up the working day while also helping it to feel more similar to your usual working routine, which is something that will help us all stay sane during this unusual period of time.
From here on out
Working from home is something many of us were already familiar with, but it doesn't mean for some of us the adjustment period will be quick. After this terrible pandemic is over and done with, it is likely many workplaces will adopt this strategy full time and allow their staff to continue in this way if it proves to be effective. It's a business model that certainly fits a lot of companies in the modern age.