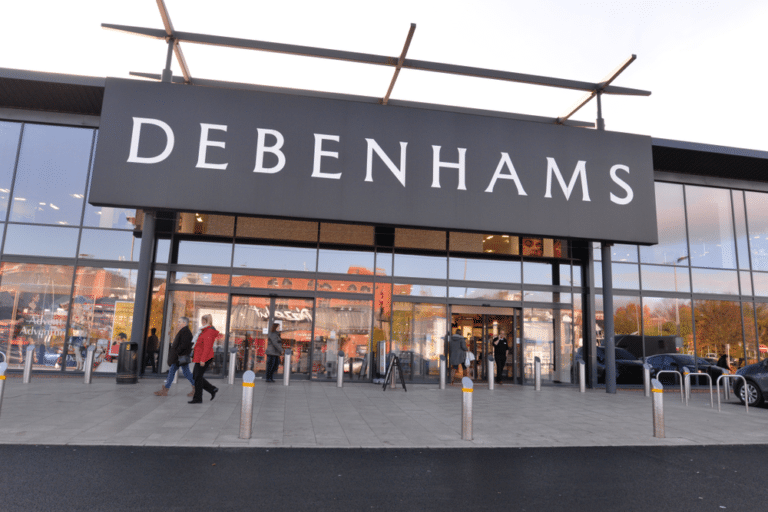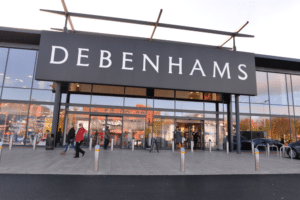 The UK retail giant Debenhams has officially failed in its last ditch efforts to save itself from permanent closure due to them not being able to secure business-saving funding.
It is worth noting that the problems have been brewing up for a while in terms of financial troubles surrounding the business, with it entering administration for the second time back in April of this year.
As Debenhams now faces an inevitable liquidation, the 12,000 people it currently employs are all set to lose their jobs. This is very troubling news, made even worse by the timing of their impending unemployment.
With it being December 2020, Christmas is just around the corner and the awful effects of Coronavirus are still at large, making it even harder to find new lines of work. Although, with a potential Coronavirus vaccine on the way, hopefully things begin to get a little bit better in the near future for those who are without work during these testing times.
Is this the end of Debenhams?
The BBC have stated, "It means all 12,000 employees are likely to lose their jobs when the chain's 124 shops cease trading. Debenhams fell into administration for the second time in April and hopes had rested on a rescue bid from JD Sports. But after the sports chain pulled out, hopes of saving the 242-year-old department store chain faded.
The 12,000 jobs at the retailer are set to go over the coming months unless the administrators do a deal for all or parts of the business as the process unfolds. It is understood staff were told on Tuesday morning".
Set to get worse for Debenhams
For anyone that has been watching the business closely over the past year, it won't likely come as too much of a shock that Debenhams is set to close down. It will be a sad day when the retailer finally does close its doors for good, as it has been a staple of most UK highstreets for some years now, but its outlook has been rather gloomy for a while building up to this point.
The department store business had already cut around 6,500 jobs since May 2020 as it struggled to look for some financial relief. This came in the form of many stores' Travel Money departments being closed down and redundancies to those workers being put into effect. However, this simply wasn't enough of a financial shift to keep the business afloat for much longer.
Facing unemployment during a crisis
At the start of this year, The Independent reported that, "The UK workforce is in "crisis", with more than half considering finding a new job this year and two-thirds dreading returning to work after a weekend break. One in four are actively looking for a new job and the number of people unhappy at work has risen 10 per cent in the past year, according to a survey of 12,000 people by Investors in People. The accreditation organisation found that three out of four people felt stressed about work, with 64 per cent reporting that their job had negatively affected their sleep patterns".
Imagine the impact that Covid-19 has had on us since then, we're likely much more grateful for our jobs now and value them much more. This is something that could eventually be good for us, though many of us are searching for new methods of employment now, as we're all struggling to get by during this current crisis. It is important to keep in mind that there are many others in the same position as you, it isn't something you're facing alone.
Stopping

 impending redundancies at your business?
If you're being faced with the fact that your business will have to make members of staff redundant in the near future, the insolvency process may be the next step for you. We can help you to avoid that and turn your business venture around once and for all.
Here at Business Insolvency Helpline it remains our sole focus to help business owners, directors and entrepreneurs restore and turnaround the fortunes of their companies. As leading consultants in our field we provide a complete business rescue and turnaround service. We aim to ensure our clients get a second chance.
Our goal is to save distressed small and medium sized businesses. We make use of CVAs agreements with creditors. This insolvency tool allows a company to repay debts over a period of time. A well planned CVA is often enough to give a company the breathing space it needs to survive.
It is just not about saving a business. Most insolvency companies stop with an insolvency procedure. We ensure we go future and aim to meet your goals, by turning around a business and ensuring it has the help and expertise that is needed to grow. We look to the future and help our clients generate a successful business.
Debenhams are set to briefly reopen 97 shops
The department store giant is set to briefly reopen 97 of its soon to be closing stores in an attempt to shift some inventory at highly discounted prices. This has been termed as a 'fire sale' as no matter how well it goes, it is already common knowledge that the retailer is set to shut its doors for the last time very shortly.
Having a closing sale like this is clearly a smart move for Debenhams as they look to make a last stretch of profit while it still can. This reopening will only last for a matter of weeks, but it will undoubtedly make room for stock to be sold within that time.
The Guardian provided an update and stated, "Debenhams is to reopen 97 of its high street stores on Monday for a closing down sale to clear stock before they finally shut their doors on 15 May. The department store, which collapsed last year, said it would be offering up to 70% off fashion and homewares and up to 50% off beauty and fragrance in its final closing down sale".
Customers are obviously eager to get back to shopping in person, rather than solely online, so that will be an obvious advantage to Debenhams as the department store looks to claw back as much cash as it possibly can while it still has the chance to do so. For shoppers, this is the last chance they will have to purchase products and services from Debenhams, so if you wish to show your support then feel free to do so from today, April 12th. 
This year takes another retail victim
 2020 has been an unkind year to many retailers and businesses of all shapes and sizes, both large and small including the news of Topshop owners Arcadia Group entering administration. Coronavirus managed to bring the world to a halt and unfortunately during that frozen period of time, many business ventures that were already on the brink of collapse crumbled under the financial pressure. Debenhams is one of those said companies and with other closures that have happened throughout this year, it wouldn't be a surprise if this is the beginning of the end for the traditional department store.