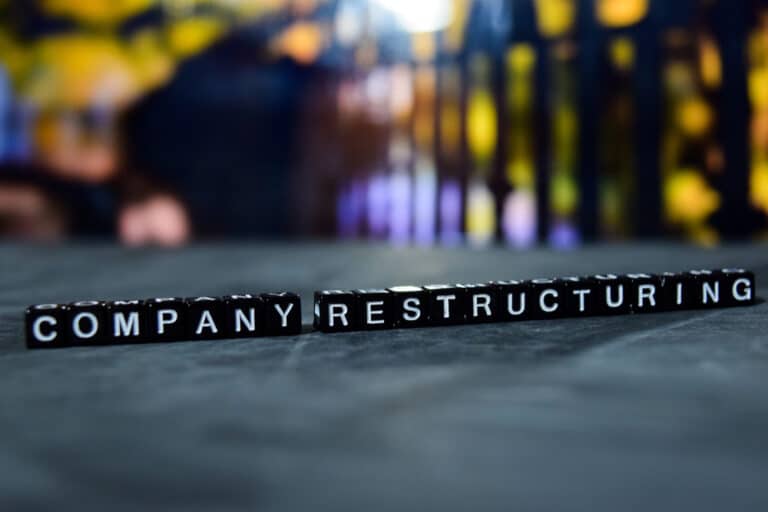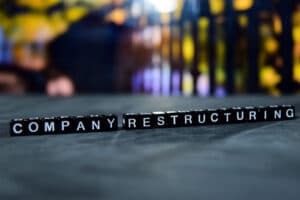 Business restructuring is a core part of service that are offered by licensed insolvency practitioners and turnaround specialists in the UK.
In the article we look at the aims to define what corporate restructuring is, any legal mechanisms in which it operates, and how it can help your company regardless if it is distressed or not
Why would a company restructure?
Restructuring involves changing the financial, operational, legal, or other structures of a business with the purpose of making it a more efficient as well as a more profitable organisation. In order to be effective, the restructuring process needs the input of a business turnaround expert working closely with the company's management team and other key stakeholders to plot a way forward.
Corporate restructuring often takes place when a company is experiencing financial difficulty, or as part of a formal insolvency process such as company administration. If a company does enter administration it will be granted a moratorium which gives a company time, space, as well as legal protection while the company is restructured. If the company is not threatened with litigation or imminent insolvency, then the restructuring process can take place while the business continues to operate.
Restructuring, however, is not limited to distressed companies. Businesses often turn to restructuring when a need for change has been highlighted. While this could be down to financial reasons, it also includes macro and micro-economic factors which have the potential to change the way a company does businesses including political issues (such as Brexit), or global pandemics such as the recent Covid-19 coronavirus crisis.
1. Business acquisitions and mergers
When acquiring a new company or following a merger, it may be necessary to reorganise the corporate structure of a business to facilitate the new business to slot into the corporate structure.
2. Reducing risks
The formation of a new subsidiary or a company could reduce financial risk if there are concerns that a certain department may be loss-making.
If your business holds property assets (whether company premises or for investment purposes) holding these in a separate company will help safeguard these assets. Separating trade and property ownership will help protect the value of the property from uninsured liability arising from the trade side of the business.
3. Succession planning
Family businesses are usually run by passing down knowledge and expertise through generations. Transferring ownership can be a complicated and personal task. Succession planning ensures that timing is correct, for a business to pass as seamlessly as possible, whilst consideration can be given to how ownership is transferred, including share rights and that this is done in the most tax-efficient method possible.
At times shareholders come to deadlock as to how to take a business forward or disagreements arise as to how a company should operate. This can have a negative effect on the businesses and affect both profit and morale. Restructuring, which could include demerger or share redistribution (with a shareholder being bought out), is an effective way to resolve these disputes.
5. Moving assets
There are several reasons why you might want to transfer assets. If a group structure is in place this can usually be undertaken in a tax-efficient manner.
6. Cost savings and increased efficiency
Consolidating multiple companies can facilitate a reduction in compliance costs, such as in the preparation of annual accounts and VAT and corporation tax returns. In many circumstances it can lead to a reduction in administration costs as processes (and the employees involved) can be reduced.
If a business decides to downsize during a restructure, it could consider outsourcing some of its operations during a restructure at a much cheaper cost than in-house roles might bring, such as payroll and financial management.
Restructuring can also be focused on bringing in new technologies to benefit a firm. New technologies are essential to growing a business and could significantly help to improve the efficiency of a business, providing further financial savings.
7. New investment opportunities
Restructuring can be beneficial if a business is looking to attract investment. For example, those who operate a limited company might find their external investment opportunities are limited, a simple restructuring of your business could open many more doors to external investment opportunities.
8. Improved employee satisfaction
Whilst many companies choose to reward employees with bonuses and other desirable perks, some go further and offer shares in the business.
Offering an employee share scheme is a great way to restructure for the benefit of a business and its employees. This is also an excellent method to increase employee loyalty and help increase employee retention.
What are the Types of Restructuring?
The decision to restructure may come about due to:
Corporate Merger

Change in Legal Structure of the Company

Debt Restructurng

Turnaround (i.e. part of an administration)

Strategic Repositioning (change of operational model)

Selling or closing a business

Spin Off – selling off a high perfoming part of the business

Cost Reduction

Equity Carve Ou
There are 3 key ways to restructure a business. The best choice will depend on your circumstances and business objectives.  In broad terms most reorganisations follow 1 of 4 routes but there may be variations on the theme to help fit within commercial objectives.
Statutory demerger;

Reduction of capital demerger; or

Liquidation demerger.
Statutory de-merger
This usually involves a creation of one or two new companies (NewCo) underneath the existing parent company. The NewCo shares are then transferred to the individual shareholders in proportion to the value of the respective businesses. Alternatively, new companies independent and distinct are created from a business.
We find statutory de-mergers are a popular choice. A statutory demerger offers a well established route to achieve many of the desired outcomes. It is possible to create the de-merged businesses free of any immediate tax liability. A big benefit is that HMRC will give advance clearance on the tax neutrality.
Reduction of capital de-merger
Splitting the business can be carried out by reducing the share capital of the existing company. The existing business is transferred to the shareholders or new companies held by the shareholders and the consideration for the transfer is treated as a repayment of share capital. If carried out as a scheme of arrangement, it can be very tax efficient.
What are the key features of restructuring or turnaround?
Support of the key creditors
An effective restructuring process will require the support of at least the majority of the key creditors of the company. Without such support, any dissenting creditors will be able to make demands for payment or initiate formal insolvency proceedings, thereby effectively invalidating any agreement reached with the other creditors.
A stay on enforcement and claims
For the restructuring to be successful, the agreement between the company and the creditors will need to make provision preventing the creditors from (i) making any demand for payments; (ii) enforcing their security; or (iii) initiating any formal insolvency procedures. Without such provision, any attempt at restructuring may prove futile, as any dissatisfied or disgruntled creditors will be able to bring claims against the company, thereby undermining the terms of any agreement.
When will the restructuring process be appropriate?
To increase the likelihood of success of the restructuring process, it is imperative to identify as early as possible when a company is experiencing financial difficulties. Common indicators of a company in financial difficulty include:
a decrease in the gross profit

a decline in reputation and market perception

a change in the performance of contractual obligations
Restructuring will invariably be the best option for both the company and the creditors, as it will not only provide the company with the opportunity to continue trading or operating, but will also provide the creditors with the best possible opportunity of being repaid.
Formal insolvency proceedings may not be the best option for the creditors, as they may not be able to recover all, or often any, of their credit, depending on where they rank in the order of priority of creditors.
However, restructuring will only be suitable for companies with a viable underlying business, as there must be at least some prospect of the company or its business succeeding. In the absence of such a quality, the only realistic option available would be to initiate formal insolvency proceedings after taking the requisite advice.
Types of restructuring
Restructuring will usually involve the company entering into a contract with the creditors stipulating how the company and its business is to be operated, and when and how much the creditors can expect to be repaid. Restructuring may also be combined with certain statutory procedures, such as administration or a company voluntary arrangement (CVA), in order to reap the benefits of certain features of such formal processes.
Standalone restructuring agreement
The company and its creditors may be able to negotiate a contract regulating their dealings with each other in order to solve the company's issues. As it is an informal procedure, it will require the consent of all of the creditors who are to be bound by the agreement. There will be no statutory stay imposed on actions and claims by the creditors. The agreement will therefore need to make provision for a period within which the creditors will be unable to make any demands for repayment, enforce security, or initiate any formal insolvency proceedings.
The agreement will regulate the terms on which the creditors are to be repaid, and will need to discuss issues such as any deferment or reduction of payment amounts, any interest payable, and whether any new security will be granted to the creditors.
Administration
This is a much more formal procedure, whereby an external administrator is brought in to manage the company in place of the directors. An administrator can either be appointed by a court order made at a formal hearing, or by certain parties, including the directors lodging a series of prescribed documents at court (the 'out of court route'). The administrator is given all of the management powers of the directors and must use those powers in the interests of the company's creditors as a whole. One of the main advantages of administration is that a statutory moratorium is imposed on the enforcement of remedies by creditors, and may therefore be combined with a standalone restructuring process where a stay on claims and enforcement cannot be negotiated.
CVA
This is an arrangement whereby the company enters into a compromise with at least some of the creditors in relation to the repayment of their debts to those creditors. The arrangement requires the approval of (i) 75% in value of the creditors present and voting at the meeting of the creditors called to consider the CVA proposal, and (ii) 50% in value of the creditors that are unconnected with the company, ie are not directors or associates of the company.
Once it has been approved, the CVA becomes binding on all creditors, apart from secured or preferential creditors, unless they have consented to be bound by it. Although the agreement does not automatically benefit from a statutory moratorium, certain companies may be eligible for a short-term stay.
Spin-Offs
Divestment means that if part of your business is no longer profitable or fulfilling a strategic purpose, you could sell it to raise capital or simply close it to save on running costs. If you wish to reduce your involvement in a unit of your business without entirely stepping away from it, a spin-off might be a better solution. This involves restructuring the unit to become its own standalone company, which you will still have a stake in.
If you think your business is likely to struggle financially in the near future, it's important to seek professional advice – so contact us today.
Our initial consultation is FREE. Here we will assess the viability of the business and offer advice on appropriate strategies. We will also give advice on the solution options available in relation to your specific situation and requirements. These solutions are wide ranging, cost-effective and flexible.