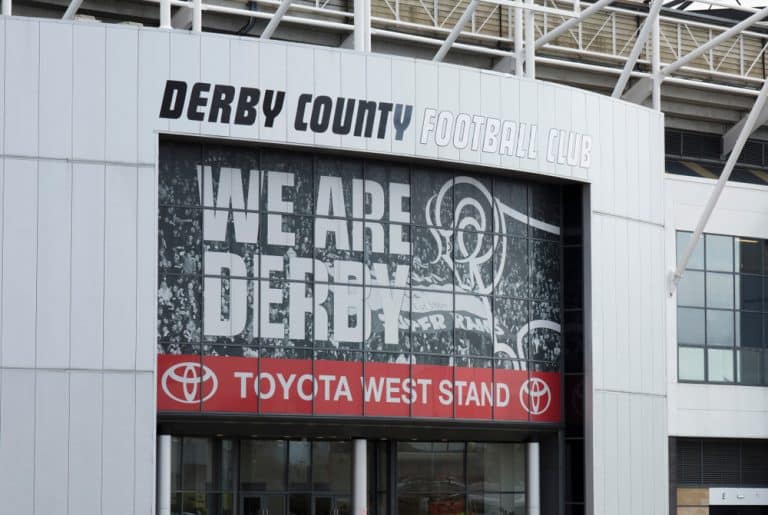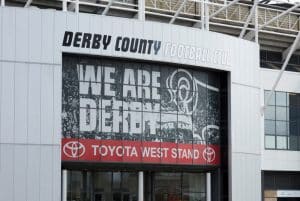 Owner of the football team Derby County, Mel Morris, has claimed that the club are currently losing between £1.3m and £1.5m every month.
Administrators have now been appointed with the main objective of paying off creditors and HMRC, though the future of the famous side is beginning to look rather uncertain.
Besides the financial problems, Derby have also received a points deduction in the Championship that has taken them to the bottom of the table. This 12-point deduction could even be increased due to previous financial issues rooted in the club.
Manager Wayne Rooney has collected 8 points from 10 games so far this season, but the decrease sees the Rams fall to the bottom of the Championship, 6 points behind Nottingham Forest.
Derby County – administration
Sky Sports have reported the following: "In a statement, the EFL said the league had held initial discussions with the administrators and would contact representatives of Rams Trust, DCMS, MPs from the Derby area and other relevant stakeholders in a bid to discuss the club's position."
They continue, "EFL chief executive Trevor Birch said: "I appreciate that this is a challenging and concerning period for everyone associated with the club, particularly the staff and supporters, and it is our intention to work proactively with the administrators and all relevant parties with the objective of securing a long-term and viable future for Derby County".
The club were previously placed under a transfer embargo, meaning the side were unable to sign new players, due to the breaking of financial fair play regulations. It is obvious to suggest that Derby County likely suffered deeply in regard to finances because of the effects of the Coronavirus pandemic, though the problems are far more deeply rooted than that.
Staff members will lose jobs
One of the main concerns now, is that the staff members working for Derby County will be facing redundancies. The vast majority of the Derby County employees are set to soon be told what they can expect to happen over the coming weeks, though it is difficult to make any positive predictions for them at this time.
5% chance the club could cease to exist
It is difficult to imagine a future in which a huge football club such as Derby County becomes nothing more than a line in the history books, but it is possible. Administrators have declared there is a 95% chance the club survives and makes it through this torrid period, but that won't settle the nerves of the fans any time soon.
There are now a reported six potential buyers interested in the football club, but negotiations rarely ever go smoothly or conclude quicky in modern day football.
What does the future look like on the pitch?
Derby County are almost certain to be relegated from the Championship this season after facing a 12 point deduction (and possibly more to follow), and enter League One next year. This is a major setback for a side that were pushing for promotion to the Premier League only a few seasons ago, but times can quickly change.
Wayne Rooney has stated that he intends to stand by the club and remain boss of Derby County for the foreseeable future. However, his wages could become a potential issue for Derby, who are looking for financial solutions at this moment in time. This could lead to a managerial change at some point in the near future.
The Championship club will have to try to remain focused and pick up as many points as possible as the season plays out, though of course that is far easier said than done. Behind the scenes the club will be looking to find interested parties that will offer a sufficient bid to form a takeover.
Owner Mel Morris will likely want to pass the football club onto a reliable owner and try to maintain some form of legacy at Derby, though fans will not see things that way. There are many fixtures in the Championship left to play this year, and all supporters can hope for now is that the team continues to approach them in the right way, with a positive attitude.
Wayne Rooney's take on proceedings
Manager Wayne Rooney has spoken about how his family have informed his attitude towards the situation at Derby County.
He told the BBC: "My mum is still working as a dinner lady at the school I went to. There are discussions about whether that school gets closed down, so my mum is in the same position as some of the staff are here," he said. I know how life works. I know the struggles people have with their bills and their mortgages and to put food on the table. I have gone through that at first hand as a child.
It seems that the manager is ready to fight for his position at Derby County and try to provide an exciting future for fans of the team.
Redundancies can be avoided at your business
If you're being faced with the fact that your business will have to make members of staff redundant in the near future, the insolvency process may be the next step for you. We can help you to avoid that and turn your business venture around once and for all.
It remains our sole focus to help business owners, directors and entrepreneurs restore and turnaround the fortunes of their companies. As leading consultants in our field, we provide a complete business rescue and turnaround service. We aim to ensure our clients get a second chance.
Our goal is to save distressed small and medium sized businesses. We make use of CVAs agreements with creditors. This insolvency tool allows a company to repay debts over a period of time. A well planned CVA is often enough to give a company the breathing space it needs to survive.
It is just not about saving a business. Most insolvency companies stop with an insolvency procedure. We ensure we go future and aim to meet your goals, by turning around a business and ensuring it has the help and expertise that is needed to grow. We look to the future and help our clients generate a successful business.