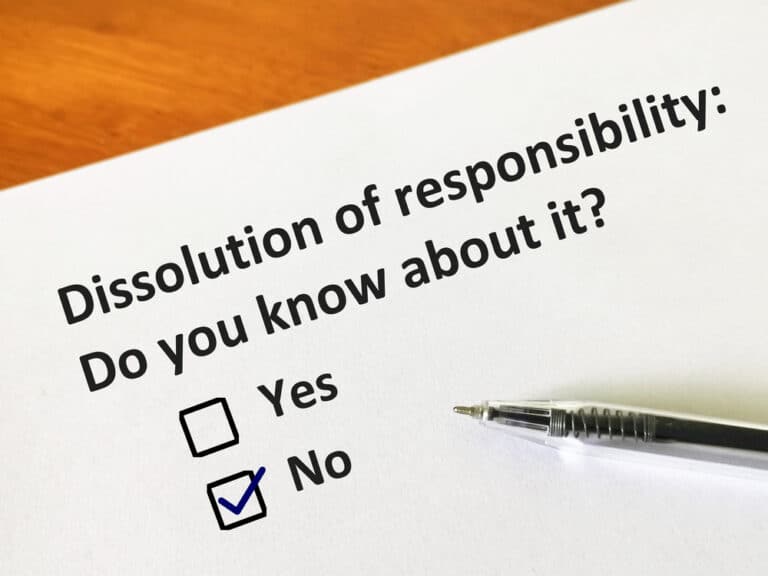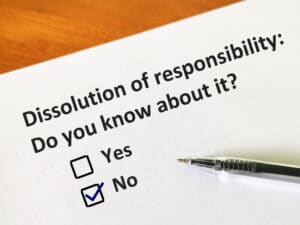 There are a number of ways to close down a limited company, but which one is most appropriate will depend on the business' financial position.
Form DS01 is used to formally dissolve or strike-off an unwanted company, which means its name will be removed from the Companies House register and it will no longer legally exist
To obtain the form you will need to contact Companies House, filled in by hand, and posted.
This process can also complete this process entirely online through the Companies House website.
What is a DS01 form?
Dissolving a company i.e. striking it off the Companies House register, is a process you can complete yourself using form DS01. This procedure can only be used if the company is solvent and has not been involved in any of the following activities during the last three months:
Has not traded;

Sold any property or rights owned by the business;

Disposed of property or rights that, immediately before it ceased to be in business or trade, it held for disposal or gain in the normal course of its business or trade (for example, a company in business to sell computers could not continue selling computers during that three-month period but it could sell the delivery truck it once used to deliver the computers or the warehouse where they were stored); or

engaged in any other activity except one necessary or expedient for making a striking-off application, settling the company's affairs or meeting a statutory requirement (for example, a company may seek professional advice on the application, pay the costs of copying the Form DS01, etc). However, a company can apply for striking off if it has settled trading or business debts in the previous three months.
If the business has been involved in any of these activities then you will have wait three months before it can be dissolved.
Why would you submit a DS01 form?
There are a number of reasons directors may choose to voluntarily strike off their company:
Retirement

Restructuring

Business challenges

Business idea wasn't successful

Lack of growth
It's also worth looking into the possibility of selling the company as a going concern – only if the existing business is financially viable.
What must a company do before requesting strike off?
Before embarking on the strike off procedure, there's potentially a lot of things you'll need to settle. While these will depend on your business, they might include a need to:
Follow the detailed rules if you're making staff redundant

Pay any staff their final wages and salary

Prepare final accounts and a company tax return and send these to HMRC, stating that these are the final accounts and that the company will be dissolved shortly. (You won't need to file final accounts with Companies House.)

Pay HMRC the final balance of Corporation Tax, PAYE, NI and any other tax liabilities

Ask HMRC to close down the company's payroll scheme

Deregister for VAT

Distribute any business assets between the shareholders. Any assets not distributed are effectively abandoned, bona vacantia, to the Crown as part of voluntary strike off.

As part of a board meeting, minute that the company has paid or will pay all of its outstanding debts or other obligations

Close any company bank accounts.

Transfer website domain names
Company dissolution and request a form DS01
You can download and print off form DS01, and then post it back to Companies House. The correct Companies House address depends on where the company was registered, but it will either be Cardiff, Belfast, or Edinburgh.
This is the information you'll need to include:
Company number

Full name of the company

Signature of the director(s) – if there's more than two directors, a majority will need to sign

Details of the person to contact if Companies House have any queries
The fee for company dissolution is £10, which should be paid by postal order or cheque, although not from the account of the company that is to be dissolved.
What is the cost?
A DS01 costs £10 when completed offline and £8 when completed online. Do not send a cheque or pay the fee from the account of the company applying to be struck off, the check needs to come from a third party. There are also a number of other costs associated with striking off. As you remain in control of the process, you have to meet all the administrative requirements yourself. You also have to make staff redundant and pay any entitlements they are due, as well as settling debts owed to creditors and HMRC. These all have to be factored into the overall cost.
Where do I send the form and cheque to?
If you've opted for the offline version a cheque and the completed form DS01 should be sent to
Companies House, Crown Way, Cardiff CF14 3UZ – for English and Welsh companies

Companies House 4th Floor Edinburgh Quay 2, 139 Fountainbridge, Edinburgh EH3 9FF – for Scottish companies

Companies House 2nd Floor The Linenhall, 32-38 Linenhall Street, Belfast BT2 8BG – for Northern Ireland companie
Can you strike off a company with debts?
Companies must be solvent in order to be struck off. If the company does have outstanding debts, they must be repaid in full before the company can be struck off. If the company is currently undergoing an insolvency procedure such as a Company Voluntary Arrangement or has been threatened with legal action such as a winding up petition, it cannot be struck off.
If an application to strike a company off the Companies House Register is rejected due to its outstanding debts and the business cannot afford to repay those debts, it will be viewed as insolvent. In that case, a Creditors' Voluntary Liquidation (CVL) is likely to be the best course of action.
Should your company has debts, new legislation came into force on the 12th May 2021, The Insolvency Service will be given powers to investigate directors of companies that have been dissolved, closing a legal loophole and acting as a strong deterrent against the misuse of the dissolution process.
If wrongdoing or malpractice is found, directors can face sanctions including a ban of up to 15 years.
Can a struck off company be reinstated to the register?
Usually it can, yes. However, having a company reinstated to the Companies House Register is not always a simple process and it may require a court order, depending on how it was struck off in the first place.  
In the case of a voluntary strike off, court action will be required to reinstate the company. That will involve a long-winded process that typically costs £500 to £800 plus additional costs and takes around four months. The directors or shareholders might choose to reinstate the company to the register so they can:
Recommence trading

Realise an asset

Pay a claim made against the business (e.g. for a personal injury)

Complete a lease or property transaction

Realise pension funds
If the company was forcibly removed from the register, you can apply for administrative restoration. The process can be completed by post and is reasonably simple. You must complete form RS01, make a payment of £100 and pay any other fees or payment penalties the company received. You can apply for administrative restoration if:
You were a director or shareholder of the dissolved company

The company was removed from the Companies House Register during the last six years

The business was continuing to trade up until it was dissolv
Who can object to company dissolution, and under what circumstances?
Anyone connected to the business can object to its dissolution – this generally includes shareholders, creditors, and employees. A number of circumstances can lead to an objection, including:
Failing to inform all the necessary parties that the business is being dissolved

Directors falsely declaring solvency, whether deliberately, or as the result of accounting inaccuracies

An employee wishing to take legal action against the company, or a creditor beginning legal action to wind up the company

It is suspected that directors have committed fraud, or traded unlawfully

A part of the closure process has not been followed – this could include failing to cease trade, or changing the company name during the three months prior to the application.