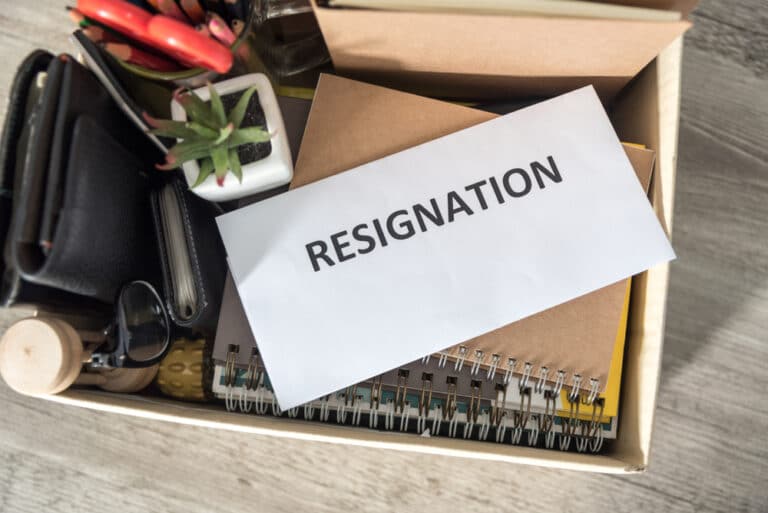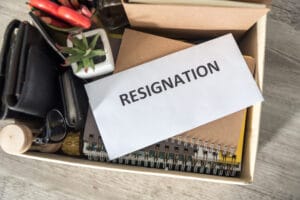 There is a myriad of reasons why you might want to resign from a limited company.
You may have reached this decision due to your impending retirement, you may simply want a new challenge somewhere else, or it may come down to the fact that you've decided to relocate.
In certain scenarios you may even be asked to leave by fellow shareholders if you've had a disagreement or some kind of dispute with one another.
Whatever the reason is behind it, resigning from a limited company is actually quite a simple procedure to go through.
Though, you need to be aware that there are certain steps you'll need to take on your way to making sure everything is done in an official manner.
How to resign as a director 
If you are wondering how to resign as a director, one of the most common errors that directors of limited companies make is that they go on believing that all they need to do in order to leave is notify Companies House and state that they want to resign by way of TM01, this is however incorrect. When you're submitting a TM01 form, that will indeed take care of the administrative side of things for you, but you should let your fellow directors and shareholders know what you intend to do, also.
Ideally, you will do this by way of a formal written notice, which you can either send to the company's address or leave it there the next time you're in the office.
This letter should state your intentions to resign and reveal the date that it will be effective from. Try to remember that it is the company which you're resigning from, so your letter of notice should be issued to the company itself. The TM01 form is to make Companies House aware that you have already resigned, so that they can take you off of their records.
Inform Companies House
It's worth remembering that it's the company's responsibility, not that of the resigning director, to tell Companies House – if the director does try to send form TM01 to Companies House, it may well be rejected.
The company should inform Companies House within 14 days of the date the officer left office.  This is done by completing form TM01 for directors, form TM02 for company secretaries or form LLTM01 for LLP members.
If a replacement officer is being appointed, then the appropriate officer appointment form will also need to be submitted to Companies House, though once again this isn't part of your responsibilities.
Will your name still be linked to the company?
 You simply cannot re-write history no matter how hard you may try, so the chances are that your name will remain associated with the company in some way, yes. As you used to be a part of the business in question, your details will likely still be viewable via Companies House, whenever somebody searches for information about the said company. Though, you will be listed as 'resigned', so people will at the very least understand that you are not part of that business any longer. All that is likely to be visible about you to other people at this point, is your name, date of birth and the dates which you started working for the company and left the company.
You can write to Companies House directly and attempt to get them to remove your details from their database, but it is unlikely that they'll grant your request. Furthermore, is is extremely likely that details about you will appear on older documentation, such as your previous business' end of year accounts, and they will all still be on file.
What happens after you resign?
Once you have officially resigned, you'll no longer be a director, so from this point onwards you'll not have the responsibilities of a director at the business. Though, this also means that you'll no longer be able to access the company's accounts, nor will you have the ability should be run (which is obvious, but you need to be clear that this will happen). If the company in question is to encounter financial problems/difficulties at any point in the future, this will have no impact on you, as you'll be completely disassociated from the business in this sense. Any problems the company has are no longer your problems, beyond your resignation. You will not be held liable for anything that happens to the company after you have officially resigned.
What happens if all directors of a company resign?
It is stated in the Companies Act 2006 that a private company is required to have at least one director and also states that a company must have at least one director who is an actual individual, and not simply a corporate vehicle. Furthermore, the structure of the company will set out the quorum for board meetings and the like, which will usually specify that a company must have at least one director to hold a quorate meeting. This should always be checked as it is common for the minimum to be set at a higher number.
How long does a company stay on Companies House for?
You may wish to discover how long a company's information is stored on Companies House for. Well, it depends on a few different factors. While ever your business remains active, information about it will remain on the public registers, but if it becomes dissolved something different may well eventually occur. When a company is dissolved, this information remains on the public register for 20 years. After 20 years, we have an agreement to transfer a selection of dissolved company records to The National Archives (TNA).
 Any business that has been established in the UK can freely change its shareholders at any time, as long as all parties are happy with the decision. Though, be aware that certain documents must still be submitted to ensure that the removal is done in a legal and official way.
There are many reasons why you may want to remove a shareholder from a UK-based limited company. Shareholders can also choose to leave their respective company whenever they like and for a reason that suits them. It may be that they are experiencing financial issues or that they've simply decided to reinvest their cash. Whatever the reason is, their shares must be transferred through gift or sale to another person or company, as it is not possible to simply delete shares from a business.
The new shareholder information must be recorded in the company's register of members. Your company must also notify Companies House of the change. This can be done via submitting the annual Confirmation Statement.
Those shares that now need to be gifted or sold to other individuals, can be done so through the use of a Stock Transfer Form. The filling in of this form will be overseen by the company director, and upon completion, the ownership will have officially been transferred. Therefore, a share certificate must be given to the new shareholder(s) and if necessary, they will need to pay the purchase price to the previous owner, whom they're taking the ownership of the shares from.
Do you still have unanswered questions?
If you are considering resigning as the director of your limited company, or would like advice on any matters relating to company turnaround or insolvency, contact our team of experts today. Here at Business Insolvency Helpline, we have a long history of experience throughout our expert team, of solving issues for company directors all over the UK. If you're in need of any business-related advice, call us today for a no-obligation appointment.
Our goal – Business Insolvency Helpline
At Business Insolvency Helpline, it is our sole focus to help business owners, directors and entrepreneurs restore and turnaround the fortunes of their companies. As leading turnaround consultants in our field we provide a complete business rescue and turnaround service. We aim to ensure our clients get a second chance.
Our goal is to save distressed small and medium sized businesses. We make use of CVAs agreements with creditors. This insolvency tool allows a company to repay debts over a period of time. A well planned CVA is often enough to give a company the breathing space it needs to survive.
It is just not about saving a business. Most insolvency companies stop with an insolvency procedure. We ensure we go future and aim to meet your goals, by turning around a business and ensuring it has the help and expertise that is needed to grow. We look to the future and help our clients generate a successful business.