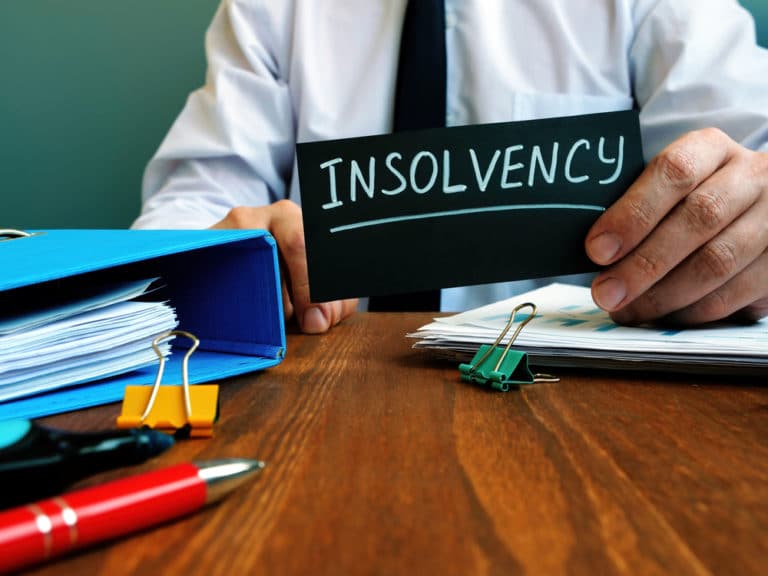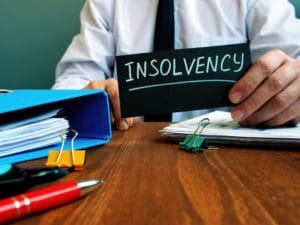 Many directors ask us what are the signs of insolvency? We offer our knowledge about the early signs of insolvency, tests for insolvency, resolutions and director duties when insolvent.
We specialise in helping businesses who have reached, or are nearing reaching a critical juncture. Many can be turned around if the signs are acted upon promptly enough, others will end up in liquidation and eventual dissolution.
we explore the key warning signs of impending business failure, and what you can do about them.
A business enters the state of insolvency when it is unable to repay money owed and fulfil financial liabilities. Burying your head in the sand isn't an option.
If these warning signs of failing business are ringing true to you, it's time for decisive action. If there is any chance that your business is going to have any chance of surviving what's to come.
Insolvency signs
An insolvent company is one that's in danger of closing down. Classic tests and warning signs for insolvency are:
Being unable to meet financial obligations as they fall due

Where the total value of company assets is less than money owed

Overtrading (lack of capital to pursue growth strategy, declining profit margins)

Accrued debts with HM Revenue & Customs

Significant bad debts & ageing debtor ledger

Terminal bank overdraft position – continually at the limit

High staff turnover

Delays in producing and providing financial information when requested

CCJ's, Statutory Demands or WRITS registered against the Company

Loss of major contacts resulting in cash flow crisis

Constantly receiving red-top letters from creditors

Bailiffs attending to pursue unpaid debts
However, by recognising the early signs of insolvency and seeking advice, a company has a chance to turn things around.
Although not an exhaustive list, here are some classic signs of insolvency.
Payment agreements
A company might find itself extending terms with suppliers, increasing creditor days or making informal payment agreements.
In this situation, it may benefit from a formal insolvency procedure with the protection of a 'statutory moratorium period'. This prevents creditors taking action within a fixed period, allowing the company to work towards restructuring.
Such procedures are company voluntary arrangements (CVA) or an administration.
HMRC letters
HMRC has significant systems and resources to chase unpaid tax. If you're being chased for outstanding tax debts, it's time to take action. If HMRC takes action to pursue unpaid tax, it could end in a petition for winding up being presented against the company.
A 'time to pay' arrangement may help in such circumstances, and a professional that deals with HMRC daily may help you to work out a realistic and acceptable repayment plan.
Balance sheet test
This tests the likelihood of the value of your assets being less than your liabilities. To determine this with any accuracy you will need to appoint an independent expert to value company assets correctly, and take into account all contingent liabilities.
Should liabilities exceed assets, you would be unable to repay creditors as there would be insufficient funds even if you sold all the company's assets. Therefore, it can be said that your company is on the verge of insolvency if the figures for liabilities and assets are comparable.
Even if this test appears to indicate that the company is solvent, the cash flow test could return a less hopeful result. That is why it is important to view the results as a whole, as well as independently.
Unable to pay employees
If the chances of meeting the wage bill are slim – insolvency is imminent. And once unpaid, it can mean the end of the business. If the likelihood of meeting the wage bill is not looking good, this is a sure sign that insolvency is looming. You may not have taken a salary from the business yourself for a few months in the hope that the next big sale will correct the situation, but it is very rarely the case, and once employee's wages go unpaid your company is already technically insolvent.
If the underlying business is viable, it may be possible to find a solution to keep the business trading – such as obtaining funding or using a formal restructuring mechanism.
You're not taking a salary from the business
If you're struggling to pay your employees and you have not taken a salary from the business for a few months, then that could be a sign the business is failing. Even if you're waiting for a big payment to come in, it may not be enough to correct the situation over the long-term.
Customers Make Late Payments
If your own cash flow cycle is impacted by late payments from clients, it starts the chain reaction which can eventually halt an entire company.
Not getting paid on time, as a regular occurrence, also indicates sloppy collection policies and a general haphazardness which may infer the business needs a tighter focus.
Of course one or two late payments isn't necessarily problematic. But when this becomes a habitual part of your businesses situation, it is a warning sign that something fundamental is not being addressed.
Key performance indicators (KPIs)
KPIs can help management to track the performance of their company and tracking them over time can highlight areas that need improvement. This could include the debt to equity ratio, the quick ratio (acid-test ratio) and the net profit margin.
Poor KPIs may provide signals of impending insolvency issues. If KPIs are not monitored and understood, it can be difficult for management to react to changes in the business.
Without timely information, a company cannot respond to:
a lower than expected bank balance

lower profit margins

a surprising use of an overdraft facility
Cash flow problems rarely fix themselves. It's important to find their cause, and this is where insolvency advice can be vital.
Unhappiness
Distressed businesses are rarely happy businesses. Owners and managers sense something is wrong. Senior staff may leave in a short time frame and morale may be low.
Running a company is tough; cash rarely flows in a steady stream. The difference between the companies that survive and those that fail is how well those difficult periods are handled.
Insolvency for companies remains a difficult topic to discuss, but early intervention from an insolvency practitioner can help save a company.
Finally, if you're facing insolvency, our main immediate advice is to put the interests of creditors ahead of all other interests. Directors have a duty to put creditors' interests first when a company is insolvent.
Director insolvency support
If you're using personal funds to continue to trade, this is a real red flag of incoming insolvency.
For example, you could be:
using your home as finance collateral

not taking a wage each month

using personal credit cards for business activity
If this happens, it's time to take insolvency advice to avoid sinking with the ship.
Make contact today
If any of the above signs of failing business ring true, please get in contact with us today. A short chat about your options may help put your mind at rest. Early warning signs of insolvency can be resolved.