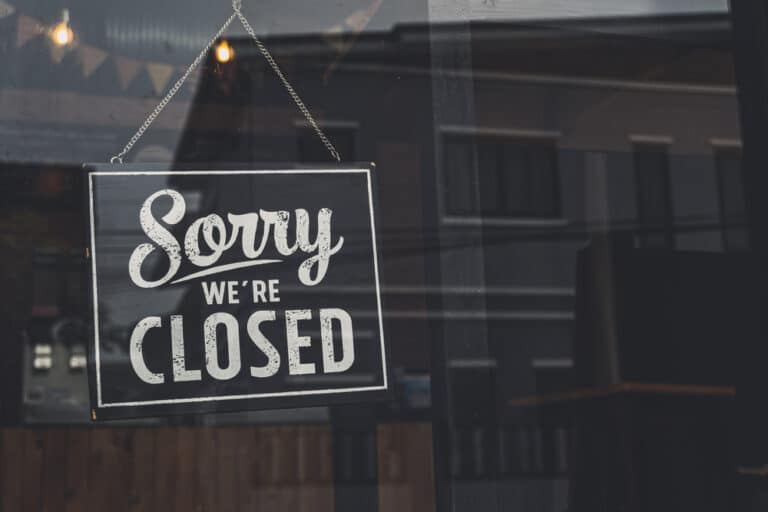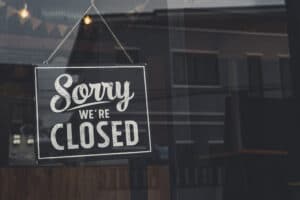 If you decides that you no longer need their limited company, for whatever reason, then they can close down their company and remove it from the Companies House register, which means it no longer exists.
Happily, this also means that there are no longer any administrative duties or costs associated with running the business, such as time spent checking paperwork and paying accountants.
How to close down a company
Although a limited company can be established in a matter of hours in the UK, and for as little as £50-£100, closing down a limited company is considerably more complex. The best method applicable to closing down a limited company depends on whether that company is solvent or insolvent (i.e. whether it still has outstanding debts).
If you are unsure how to close down your company, or what method to use, it is advisable you speak to a professional. We can certainly assist with the process and legal advice if you are unsure, worried or don't want the hassle. Advice is recommended where you are concerned about any personal liabilities or the company has assets.
Solvent or insolvent: what's the difference?
A solvent company is one which can pay its liabilities and has no threats of legal action from creditors. On the other hand, if your company is insolvent, it may have insufficient funds, have more liabilities than it has in assets or be facing pressure from creditors.
How do you close a company that is solvent?
There are a few options if you want to close a company that is solvent, and the best option will depend the following questions:
If there are net assets above £25,000 the usual route would be a members' voluntary liquidation (MVL). You will need a licensed Insolvency Practitioner who will usually give you a fixed quote to close the company and distribute the assets to the shareholders. The advantage of an MVL is that it treats the pay out as capital to shareholders, which means there's usually less tax to pay than if the pay-out were to be by way of dividends.
If the net assets are below £25,000 then this can usually be closed informally by asking for HM Revenue and Customs (HMRC) for clearance to distribute the assets as capital. Once the company is dormant you can apply to strike it off using form DS01. Another method may be to pay out all funds as dividends to leave a nil balance of assets. Again, at the end of this process form DS01 should be used.
How do you close a company that is insolvent?
The usual method to close an insolvent company is by using a process called creditors' voluntary liquidation (CVL). Again, you will need a licensed Insolvency Practitioner. The process takes about two weeks and brings the company to a formal close. All creditors and shareholders are notified of the process and a liquidator is appointed to get in the assets and make a payment to creditors based on what is realised.
If there are insufficient funds to pay a liquidator, then another route can be compulsory liquidation. This is a process of applying to court and it takes longer – usually up to two or three months. The costs associated with petitioning for a company to be wound up through the courts must be paid. Currently these comprise a court fee of £280 and a petition deposit of £1,600. If a solicitor is used to file the petition there will be legal costs to pay.
How do you close a company that is now dormant?
A company is 'dormant' if it has stopped trading and there are no new transactions of any sort. There will be no employees and the company will not be making any new sales. If a company is dormant and the assets and liabilities are nil, a quick and low-cost way to close a company is to use form DS01. A company director can fill in this form themselves and post it off, which will apply for the company to be struck off. The fee is only £10.
Before sending the DS01 form, it's recommended that any final tax returns and VAT returns have been submitted and you have notified these authorities of your intention, so you are de-registered for VAT. Bank accounts should also have been closed. If you have creditors you can still apply for striking off, but they must be notified of your intention to strike off within 7 days of you starting the process. However, a creditor can apply to Companies House to block a proposed striking off.
Dissolution (Striking off)
Dissolution is an option only if the capital gain released is less than £25,000. Before you strike off your limited company, you must follow the correct process. This involves:
Telling any interested parties and HMRC of your plans to strike off your limited company.

Settling any outstanding debts and dealing with the sale, or transfer of ownership of business assets.

Preparing cessation accounts and filing your final tax returns

Dealing with your employees according to the rules.
In order to dissolve a company, you must submit a DS01 form to strike off your company, which needs to be signed by all directors and will be sent to Companies House. You must also send copies to shareholders, creditors and employees within a week of submitting this form. If no objectives have been made, your company will be dissolved within 2 months of submitting this information.
Who needs to be notified?
Interested parties include members of staff, creditors, pension fund trustees, HMRC, shareholders and any directors who did not sign the application. Copies of the application form are used as notification, and must be sent within seven days. These requirements also apply to anyone who becomes an 'interested party' after the application is made. Creditors are an important group in this part of the closure process, as dissolution cannot go ahead without their agreement. Any creditor who does not receive notification, and who is owed money, has the right to apply for the company to be restored at a later date.
The public notice placed in the Gazette also allows for any objections to be made from third parties. Once the business has actually been dissolved, another notice goes in the Gazette stating that the company no longer exists.
The cost of striking off is £10, and this payment cannot come from the company.When you dissolve a company, you will be striking it off the register in Companies House and it will cease to exist. After your company has been struck off, you cannot trade or carry out any business activities through that limited company. Any assets that are still held by the company at the point it is struck off will become the property of the crown. It is therefore important that all of the assets, including cash, have been transferred to the ownership of the shareholders before filing the form DS01.
Applying to Companies House
Once the final accounts and tax return have been sent to HMRC, the final dividend paid and the bank account closed, plus other loose ends such as reassigning the ownership of domain names, then the directors or agent should submit Form DS01 to the Registrar at Companies House.
Assuming there are no complications, which will be the case for most company owners are sole directors and shareholders of their own limited company, the Registrar at Companies House will advertise the dissolution of the company in the London Gazette.
This is likely to be a formality, as there should be no creditors, shareholders or directors to object; so within nine months the company will be struck off and cease to exist. Then, for many directors, this will be the end of a major, and hopefully profitable and enjoyable, chapter in their lives.
Can a company be closed if it does not have a director?
You can you close a company if it does not have a director. This situation can arise if you have a sole director who passes away. Without anyone in authority the company will grind to a halt as no one can authorise payments, sales, purchases etc. The normal way to close a company in this situation is to apply for compulsory liquidation. An alternative maybe for shareholders to apply to the court for directions which might include appointing a new director.
If a company does not have a director (eg because the sole director has died), a new director must first be appointed before the company can be closed. Although Companies House will eventually strike off a company with no directors, this can cause problems regarding the management of any assets. However, if the sole director who died was also the 100 per cent shareholder then probate will be needed to transfer the shares to a new owner.
Compulsory liquidation
Compulsory liquidation is the enforced closure of your company. It can be instigated by you as a director, the company itself, or by one or more creditors.
How it works
Once a winding-up petition has been lodged at court, the process can happen very quickly. As a director, you face investigation by the liquidator for misconduct, or unlawful/fraudulent trading during the time leading up to insolvency.  When one of your creditors is owed £750 or more, they may be entitled to petition for your company's winding-up. If a winding-up order is subsequently granted by the courts, compulsory liquidation will follow.
We can provide more detailed advice on these potentially complex closure processes. We will guide you through your options, and ensure that you close the company in the most appropriate way bearing in mind its financial position and any tax implications for you as a director.
Do I need to close a company which is not trading?
A company which is no longer trading can be left to become 'dormant' for tax purposes, as long as it is not receiving any income or carrying on any sort of business activity. However, annual accounts and confirmation statements must still be filed with Companies House (Companies House in Wales for companies registered in England and Wales, and Companies House in Edinburgh for companies registered in Scotland) every year.
How we can help
Whatever the reason behind you wishing to close your company, whether solvent or insolvent, we provide a free initial consultation to guide you through the process. Whatever method fits your company best, our licensed insolvency practitioners (IPs) will provide a fast, efficient service through every step of the process. Get in touch today to discuss your options with an experienced member of our team.